Pacific Crest Trail Section H
Columbia River to White Pass
147 Miles
August 30-September 13, 2003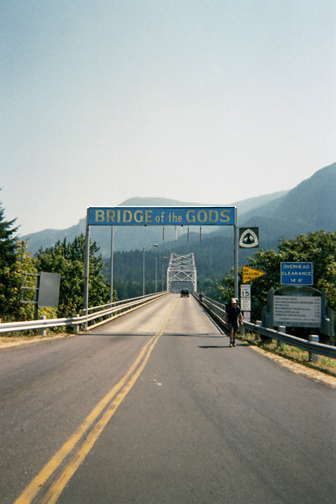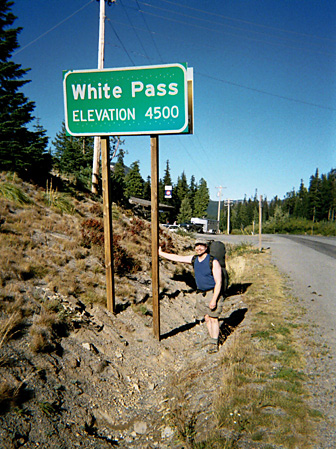 Section H of the Pacific Crest Trail goes from the Bridge of the Gods at the Columbia River to White Pass near Mt. Rainier.
Introduction
I have been backpacking for 22 years and have often dreamt about a long section hike on the Pacific Crest Trail. In 2002 I did a test hike in the Goat Rocks Wilderness near Mt. Rainier and found that I was still in decent shape. I also found that lightweight backpacking really works. It makes the miles go faster and easier, even for an older guy like myself.
Now it was time to take the big step. Could I hike, on average, 10 miles a day and journey from the banks of the Columbia River to the heights of the Goat Rocks near Mt. Rainier? Who would be willing to join me in this adventure? How would I carry all that food? How could I resupply along the way? Would this be a journey of physical, mental and spiritual renewal, or a disaster of fatigue, loneliness and despair?
I chose a 147-mile section of the trail--the longest PCT section in the state without a town stop or major highway crossing. While prepared to do it alone, I soon heard from friends interested in joining me. My cousin in Virginia, Rick, was extremely interested in a one-week hike, as were some fellow magazine editors I know--Chuck , Beth and Kevin. We coordinated our schedules so that Rick would take the first week with me and the editors would join me for the second week. We would rendezvous at the halfway point near Mt. Adams.
What follows is a two-part trip report on Section H of the Pacific Crest Trail--a stretch of trail that had plenty of mental and physical challenges, but held such beauty and tranquility, that it transformed me. If you take a similar journey, it could transform you too.
Part One: Cousins on the Run-Columbia River to Mt. Adams
Part Two: Editors on the Edge-Mt. Adams to White Pass
The same material can be accessed through a day-by day-account:
Day One
Day Two
Day Three
Day Four
Day Five
Day Six
Day Seven
Day Eight-Part One
Day Eight-Part Two
Day Nine
Day Ten
Day Eleven
Day Twelve
Day Thirteen
Day Fourteen
Day Fifteen
Return to Tom's PCT Page
To send me e-mail, try griffinte@comcast.net