Day One
Bridge of the Gods to Cedar Creek
7.5 miles
Summary: A thrilling crossing of the Columbia River on an old trestle bridge begins the 150-mile journey to White Pass. It's a gradual climb up the sides of the gorge, with many views of the river.
The Bridge of the Gods is an ancient trestle bridge with a metal grating for its deck. There is no sidewalk--the cars have to dodge a hiker on the edge. As you cross, you can look through the grating to the water hundreds of feet below. It is not a good place if you have vertigo, but I was in ecstasy. I later wrote in my journal, "I was absolutely elated to finally be on the trial. After months of talking about it, I was finally crossing the Columbia River and beginning a two-week adventure.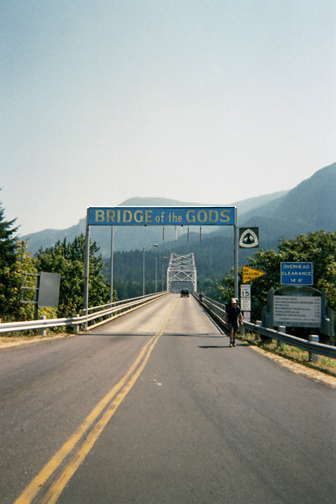 We are crossing the Bridge of the Gods and the Columbia River.
"This is a spiritual journey as well as a physical one," I wrote. "I want to experience a pilgrimage through Nature. I want to cleanse myself of the trappings of civilization, particularly the excesses of early 21st century America. I want to simplify everything and get my body in harmony with the daily rhythms around me."
After the bridge, the trail runs through mostly second growth forest as it slowly makes its way up the side of the gorge. Rob came along with us for a few miles but eventually had to turn back. "God, how I wish I could go with you," he said. He took one last photo of us on the trail together, and then he was gone. Just a few minute later, we made the turn to Gillette Lake, the first possible campsite about 4 miles from the river. I had worried about our hiking speed before the trip began, but getting here this early meant we could make our goal easily. It was like passing your first test in a challenging math class. There would be more tests to come, but at least you got the first one right.
We passed some views of the river and Bonneville Dam. Rick couldn't help but take photos with his digital camera. I had just a 36 exposure disposable Kodak, so I was more judicious about snapping shots. Long before nightfall, we made the destination, a campsite slightly off the trail at the end of an old logging road by Cedar Creek. Due to our drought, the creek was running low, but there was still plenty of water for cooking and drinking.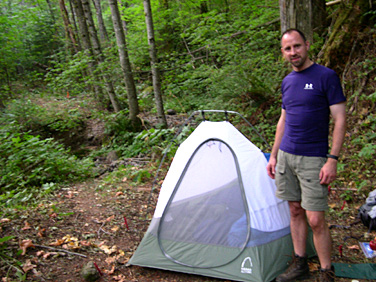 Our campsite was on the roadbed of an abandoned logging road. It wasn't very scenic but it was at the last accessible water for several miles.
Rick and I decided not to filter or treat water unless we felt it was unsafe. My experience with 20 years of backpacking is that either I am immune from giardia or it is much less prevalent in the Pacific Northwest. So we freely drank this creek water and most other water sources in this trip.
For the first night's meal we had fresh food left over from Friday's dinner--I don't think I even bothered to fire up the stove. As we finished, we came across our first two through hikers--Veronika and Merek, a couple from the Czech Republic. They came for the water and to make dinner, and then planned to hike on for a few hours. Marek didn't speak much English but Veronika told us about their experiences in the States and the recent fires in Oregon that closed part of the PCT. They had to take a shuttle bus to get around the fires.
That night was so hot that Rick and I slept in our underwear on top of our down sleeping bags. It was a restless night as we tried to get used to the tent and our sleeping pads. I had strange dreams--a bear attack, a puncture wound to my thumb--but still got enough sleep to feel OK in the morning.
Day Two
Day Three
Day Four
Day Five
Day Six
Day Seven
Day Eight-Part One
Day Eight-Part Two
Day Nine
Day Ten
Day Eleven
Day Twelve
Day Thirteen
Day Fourteen
Day Fifteen
Return to Tom's PCT Page