Day Seven
Blue Lake to Big Mosquito Lake Outlet
13 miles
Summary: Sections of the Indian Heaven Wilderness were scenic and included lots of ripe huckleberries, but the rest of the day was mostly a forest walk.
This day would take us through the Indian Heaven Wilderness and historic huckleberry fields. We would also pass through second growth, marshy fields and many logging roads.
We got a late start because we really didn't want to leave the lake. I knew the best sections of this trip with Rick were over. It was strictly mileage time.
But the sections this day through the wilderness were quite pleasant. There are many lakes in this part of Indian Heaven, although I'd have to say Blue Lake is the best of the lot. Some of the others were marshy rather than majestic.
One lake that rated high was Bear Lake. It has a pleasant setting but its remarkable feature was the huckleberry harvest. I've seen lots during my hiking years, but never so many berries bursting on each branch. I could hardly stop eating them; I told myself to be careful or I'd get sick. Rick snapped a photo of me holding up the berry-laden branches, but even the pictures don't capture this cornucopia of fresh fruit.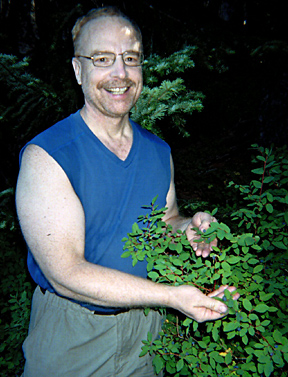 The huckleberry bushes were oozing with fresh fruit. I ate too much.
We started to run into through hikers again. After Bear Lake, we took a rest at a trail junction and spied a thin, shirtless hiker with a buzz cut and beard coming up the trail. His trail name was Treebeard and he was from Worcester, England. I asked him if this was the trip of a lifetime, and he said not really, maybe the trip of a decade.
We started to learn about the "trail telegraph" ­ how information is passed up and down the trail between through hikers. Treebeard told us about forest fires at Cascade Locks that had closed Interstate 84 for two days. He was afraid he would have to be evacuated from the town, he said. This was the fire Rick and I had seen on Days Three and Four--we were lucky we didn't have to deal with this mess when we left Cascade Locks.
Treebeard also gave us a weather report, a key bit of information traded along the trail. "There is a system moving in on Sunday," he warned us. Rick smiled, since that was the day after he was leaving the trail. I didn't really think too much about it. Weather systems often change around here, I thought to myself. "I am dreading rain after all this glorious weather," I wrote in the journal. "Can it be true?"
We ate up the miles this day because it was relatively flat terrain. Before noon we found ourselves crossing Forest Road 24, which was a well graded road with trailhead parking. The most exciting discovery of all--a garbage can! I had seven days of Power Bar wrappers, Mountain House packets, salmon and chicken foil containers, etc. stashed in my food bag. I dug everything out that I could and dropped the bags in the garbage. I expected the can to be packed with through-hiker trash, but it had lots of picnic trash as well. I had never came across a garbage can like this in previous hikes (but then, I always tried to hike in roadless wilderness areas).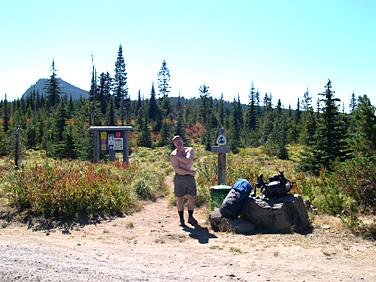 Rick caught me putting on sun screen at the road crossing. I used so much of it that Rick wanted to make my trail name "Bull Frog," the brand I was using. Note the green trash can beneath the PCT trail sign.
We passed more huckleberry fields (some on one side of the trail were for American Indians only--but no signs had been posted). The next stretch of trail through the Twin Buttes was exceedingly boring. Despite our light backs, we were getting hot and tired. At last we came to Road 8851 by Big Mosquito Lake--a blacktopped road that had a smattering of traffic.
"There is supposed to be a campsite after we cross the outlet," I told Rick. He wondered if we could just camp on the lake; I told him it was surrounded by swamps. But after the outlet there was no campsite. "Hmm, maybe it is further away than the guidebook stated," I thought. No wonder many through hikers called it the Book of Lies! Indeed, we had to march about 100 yards to higher ground, where we found a developed campsite. It would mean a brief walk to get to the water.
Rick and I dumped our stuff and headed back to the outlet for a sponge bath. We both knew that we were coming to the rendezvous, so it was time to try and clean up a little bit. After a Mountain House beef stew meal, I walked down to the outlet to do dishes. Suddenly, from the side of the creek I spied another hiker. With his long hair and beard, he looked a little like Jesus, but he called himself by his real name--Tyson--although someone had tried to give him the trailname "Che" after Che Guevara. He had just been off the trail for 12 days to attend a wedding in Portland and was trying to adjust to being back on the PCT again.
Tyson carried a lightweight pack and heavyweight camera equipment. In addition to a 35mm SLR, he carried two extra camera lenses and a tripod. I was amazed that he could hike with all this gear, but he said it didn't really slow him down much. He is a travel photographer, see tysonfisher.com. We talked a lot about his travails on the trail--how he broke through the snow as one of the first over Mather and Forester Passes in the Sierras; how he had to say good-bye to his hiking partner after the first 600 miles; how a fellow hiker called Huff--n-Puff (or just Huff), got off the trail in California and he didn't seem him again until yesterday.
We had a great talk and we were still chatting away when Rick suddenly came down the trail. "I was worried about you," he said. "You never came back from doing dishes." The three of us talked for a long time and it started to get dark. So Rick and I went back to our camp while Tyson stayed by the outlet. Rick built his last fire of the trip and we talked again about what a fabulous week it had been.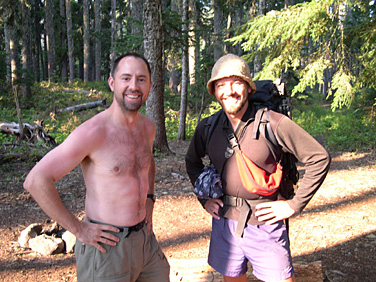 Rick and Tyson chat at Day 7's campsite.
Spending seven days with a cousin you only see once a year could have been a challenge--spending seven days with ANYONE can be a challenge. Rick was a great companion. He was already ready to go, willing to hike long miles, excited about all the sights and sounds around us. I loved his energy and his insights. We also got to talk a lot about our families--he never heard a lot of tales about his grandparents so I tried to fill him in the best I could. He kept saying he'd be back to do it again next year, and I kept saying that I sure wish he would.
Day Eight-Part One
Day Eight-Part Two
Day Nine
Day Ten
Day Eleven
Day Twelve
Day Thirteen
Day Fourteen
Day Fifteen
Return to Tom's PCT Page