Day Thirteen
Sheep Lake
0 miles
Summary: A rest day.
That night the skies opened up. Rain pounded the tent like never before. The deluge was of Biblical proportions and I felt like it had been raining for 40 days and 40 nights. Of course the insides of the tent got wet along its edges. Nothing was going to hold this torrent out. I had placed a spare garbage bag under the tent as a ground cover, but still the tent floor was wet and the bottom of my sleeping pad was wet. My pad is only 3/4 length and I had to curl up in a fetal position to keep my feet off the wet tent floor. Somehow I made it through the long night.
I didn't want to tell the others, but I was considering escape routes. We could hike down to Walupt Lake and take our chances that someone might be there to give us a lift to Randle, a small logging town on Highway 12. But if no one was there or was willing to drive one of us, we were at least 20 miles from any town even at the trailhead. It would be a desperate move only warranted if the conditions got worse and our sleeping bags were soaked.
Our other alternatives were to hike on or to stay put for the day and try to dry off. The three guys were talking about the alternatives of hiking on and staying put when Beth came out of the tent to tell us we were nuts. We needed to get out of the rain and out of here, she said.
But there was hope. Another horse party said the weather should improve by the next day. And at least it wasn't raining at the moment. I recommended that we take a rest day, build a bonfire and try to dry off as much of our gear and as many pieces of clothing as we could. "It's what we did when it rained so hard on us in 1982," I said.
Though dubious, the others agreed to my plan. We started scavenging for big pieces of wood and again got a fire going, though we had to baby it along the way. Beth got out her sleeping bag and started to dry it off, section by section. She was pleasantly surprised when it worked. Soon we were all drying anything that we could. I started with small items made of nylon that I knew would dry quickly. "I need some small victories," I explained. Soon my nylon pants and polypro shirt were dry.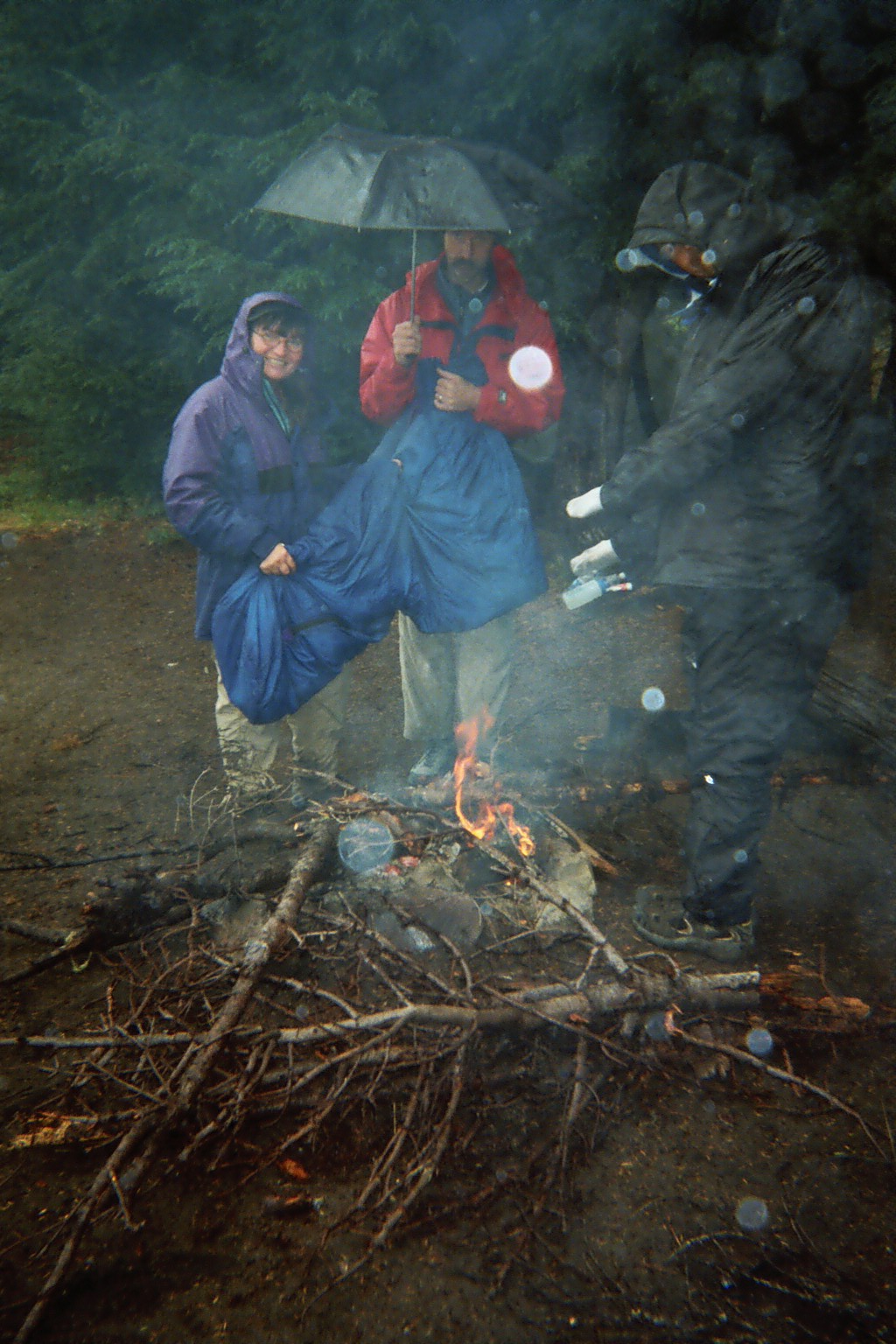 Beth tries to dry her bag at the fire. Yes, those circles are raindrops on the camera lens.
In addition, the rain had shifted to a mist. We built a bigger fire and got serious. I dried off everything I could think of-socks, shoes, shirts, pants, sacks, backpack, sleeping pad, the bottom of my sleeping bag. I even dried off the two garbage bags I had been using to cover and line my backpack. Kevin even dried off a copy of the Smithsonian that Beth had lent to him.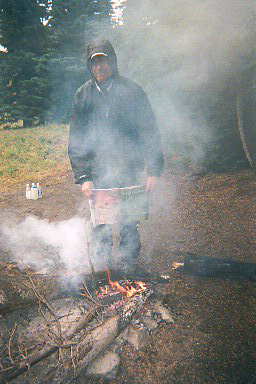 We dried everything we could. Kevin even dried his copy of the Smithsonian.
"I know you are not going to believe this, but you will find this day will be one of the most memorable of the trip," I told them. We burned huge logs, laughed a lot about ourselves, and gradually got warm--and relatively dry.
We obssessed about the weather. Even though the skies were solid gray, we could hear the wind briskly moving over the ridge. It was a sign that the front was passing. The sky even teased us with a few patches of blue. We could even see the lake, finally, from our campsite. Before now, it had been socked in by the fog. We might just make it after all.

Day Fourteen
Day Fifteen
Return to Tom's PCT Page