Day Fifteen
Elk Pass Camp to White Pass
12 miles
Summary: At first there is a lot of downhill hiking. You enter dense forest for a while. There aren't too many good campsites between our spot and White Pass--Lutz Lake is really a pond and there are a few other stagnant ponds after Teiton Pass. Water is also in short supply. There is a good spring about 1/4 mile off the main trail at Teiton Pass if you head east. At last you start back up to the ridge above Shoe Lake. There are fabulous views of Mt. Rainier and even some ledge hiking that reminds me of the Knife's Edge. Coming down from the ridge, it is a long forest walk before the chairlift cut off to White Pass. We struggled to find the shortest way down, following the line of the chairlifts got us in some difficult stretches. The service roads may take longer but are easier on your legs.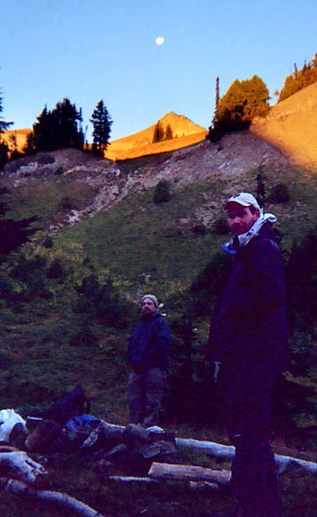 Tom and Kevin enjoy the sun rise and the full moon.
It was a cold morning but we were in great spirits. A head of elk looked down on us from the trail at the pass. The horse party got an early start as I made the last of the oatmeal. Kevin had brought just cheap plastic utensils and bowls for the trip to save weight, and as the days progressed, most of his items broke. He was using a cut-off water bottle for a cup/bowl, but even that got ruined. We loaned him what we could and shared bowls and cups. Now his last eating utensil broke as he was trying to get some honey out of a jar. We all laughed, while he swore he was going to bring "real" utensils and bowls next time.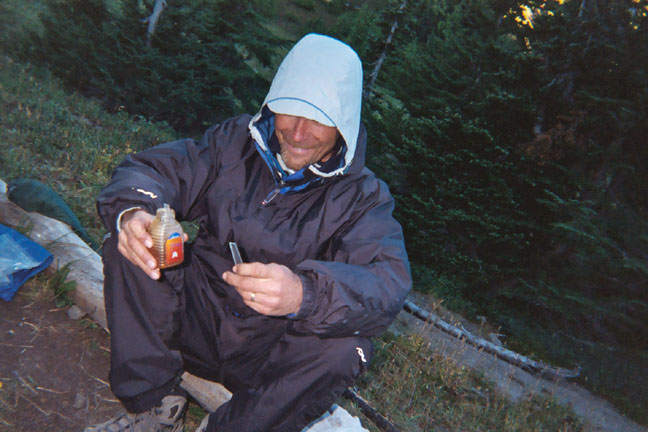 Kevin laughs over losing the last of his utensils.
We were down to just a few items of food and didn't really have much for lunch. I gave Kevin one of my meal bars. I still had one apple, a "Pemmican" meal bar, gorp and a Power Bar, but that was about all. The others seemed to be pretty low too. We'd make it fine to White Pass, but we'd be hungry by the time we got there.
The trail heads downhill for a long time. We could look up and see the Goat Rocks and the glaciers, sometimes even the Knife's Edge. Then we plunged into dense forest and kept going downhill. Kevin struck out ahead of us, but Beth was not feeling energetic and so I stayed behind with her and Chuck. At lunchtime Chuck and I took some heavier items out of her pack to ease her load, and it seemed to help.
It took us a long time to get up the ridge above Shoe Lake. Beth's pace slowed considerably. So to pass the time I quizzed Chuck about his obsession with Volkswagens (he has restored several VW buses). There was a lot to learn. Sports car genius Dr. Porsche had also designed the original VW. There were two special versions for World War Two--an aquatic VW that could go across rivers and one that acted like a Jeep. Somehow the Germans had saved much of the machinery despite the bombings of the war, and got the production line going again after the surrender. And so on... By the time we were done with this history, we were at the top of the ridge. Mt. Rainier was just spectacular--a fitting emblem to mark the end of the journey.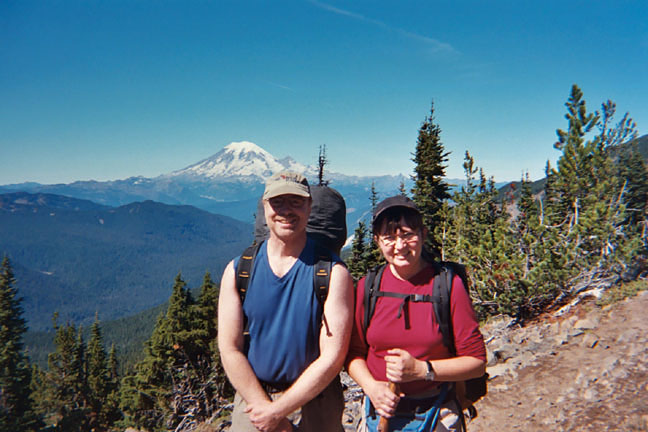 Beth and I pose with Mt. Rainier in all its glory.
But the journey hadn't ended. We had to get down to White Pass. After the high ridge comes a long descent across a bowl and then another long forest walk. I warned Chuck and Beth that it would take a long time until we got to the chairlift cut-off, and it did. At this point the PCT takes about three miles of twists and turns to get to Hwy 12, and then you are still about 1/2 mile away from the pass. By taking the short cut under the chairlifts at the ski area, you save about two miles and get back quicker.
But the way down just isn't clear. We tried to stick to service roads under the chairlifts but the roads sometimes ended and we were stuck on steep ridge sides. There were boot tracks, but no really good trail. It was rough at places and we complained. I guess we were spoiled by the PCT grades. At one point we found a solo hiker below us and it turned out to be Kevin. He had spent a long time watching Mt. Rainier and writing in his journal, he said. Now he was getting frustrated trying to find his way down the mountain.
With four of us looking, we found a path and eventually got closer to the pass. We could see Chuck's white car parked at the Kracker Barrel convenience store. Kevin and I marched ahead, chatting excitedly about the trip and hoping that we could do this again. At last we came to Highway 12. There was one last shot in the camera, so I posed by the sign that marked the end of Section H and my 150-mile journey.
I reflected on my 15 days adventure. Often at the end of a trip I am eager to get out of the woods and back to civilization. I felt so good this time that I could have just kept hiking all the way to Canada. Going back to clocks, traffic, bank accounts, deadlines, job pressures, family demands--it was not a happy prospect. But I had renewed my spirits and I adjusted to the rhythms of Nature. I felt I knew what was important and what was just gloss. I hoped to carry that feeling with me as I went back to civilization.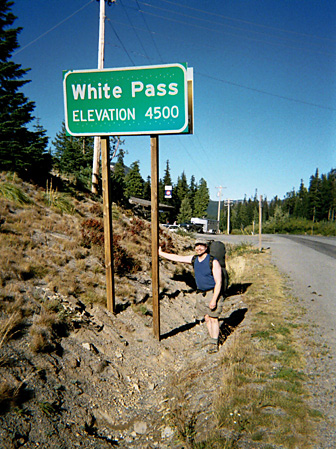 I made it! About 150 miles in 15 days.
To send me e-mail, try griffinte@comcast.net