Editors on the Edge
Mount Adams to White Pass
September 6-13, 2002
65 miles
Part two of the epic adventure now begins. I have traded a solo hiking companion, my cousin Rick, for three colleagues in the magazine business. Kevin is the editor of the Stanford alumni magazine. Chuck is the editor at the University of Puget Sound magazine. Beth was formerly the editor of the alumni magazines at Idaho and Seattle University and now free-lances (and is married to Chuck). We all met almost 10 years ago at an alumni editor's conference in Boston and have been fast friends ever since. However, we have never had to share seven days on a trail together.
Our goal was to hike about 65 miles in seven days, starting on the slopes of Mt. Adams and ending in the heights of the Goat Rocks Wilderness near Mt. Rainier. Because this was Beth's first backpacking trip, we planned to average less than 10 miles per day. I had planned for some short days as we got into the Goat Rocks because of the beauty, and the challenge, of the terrain.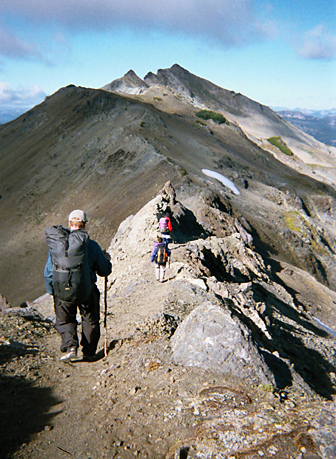 Our goal was to hike along the Knife's Edge in the Goat Rocks Wilderness, which was about 45 miles from our starting point at Mt. Adams.
Day Eight-Part Two
Road 23 to White Salmon River springs
Three miles

Now we were beginning that stretch earlier than we had planned. I was happy to burn up three miles now since the weather wasn't looking too good and our travel time may have to slow down as a result. Our destination was a spring about 1000 feet higher than our meeting point. I hoped there would be a campsite, even though the guidebook was silent about any. It was a hot afternoon, so I stocked up on water at the creek crossing. To my surprise, the other three treated their water with Aqua Mira. "OK," I thought to myself. "I guess they are being careful and I am being reckless. But it is too late for me to change."
Kevin and Chuck set a fast pace, so I stayed behind with Beth, who was taking it slowly. We talked about the trail and the day's news as we trudged up a rather steep incline for the PCT. I could see Beth's face turning red and I urged her to drink lots of water in the heat of the afternoon. It was tough going for a while, but eventually the trail leveled off a bit.
We found an old trail junction right where the turnoff to the spring should be. Although the old trail was covered with logs, Chuck started down it and found a well situated campsite. Too bad the guidebook didn't list it. It was just about 50 feet from the spring. The spring itself was a jewel--lots of water gurgling out of the mountainside in several spots. No one bothered to treat their water now.
Beth and Chuck brought extra fresh food for dinner, so there was a quick meal and lots of joking and teasing as we set up our tents. We had "cocktail time," with cognac and cashew nuts and drank a lot up.
Kevin and I would sleep in my tent, while Chuck and Beth shared a single walled Kelty tent they had recently purchased. I told Kevin that this was the first time on my trip that I was also setting up the rain fly, but the weather forecast sounded serious. We tightened it up and got inside. Kevin is much taller than me, but fortunately he's also thin, so the tent was snug but not overcrowded. Once settled, I pulled out my book. "Oh, you brought a book?" he asked. "Yeah, I always do," I replied. "I love to read in the woods. It's relaxing." "I was trying to follow the light weight system, but now I wish I had brought one," he said. Instead, he pulled out his trail journal and started to write.
The air was a little chilly. For once, I snuggled into my sleeping bag at lights out. "There is definitely a change in the weather," I told myself. The next few days would confirm that feeling--in the worst way.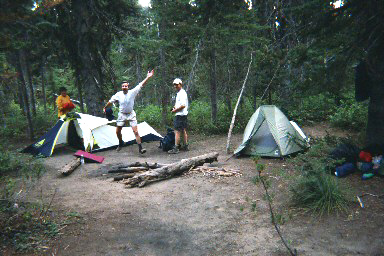 Chuck waves hello as I take this picture of our first campsite together.
Day Nine
Day Ten
Day Eleven
Day Twelve
Day Thirteen
Day Fourteen
Day Fifteen
Return to Tom's PCT Page