Day Ten
Sheep Lake to Lava Springs
9 miles

Summary: More gorgeous scenery as you skirt the mountainside, including one incredible campsite next to a waterfall. Then some downhill forest walking to a unique spring that comes out of a lava flow.
From my trail journal, "Wet. Wet. Wet. Cold. Cold. Cold.
We got up after the last downpour, ate oatmeal and got our tents and gear put away. It began to drizzle. We started walking in a mist and then it turned into a complete downpour. I should have put on my rain pants, but I was already somewhat wet and thought that my nylon hiking pants would dry soon enough. For a pack cover, I used a trash bag. Inside my pack was another trash bag acting as a liner to hold out the moisture. Meanwhile Beth, Chuck and Kevin got out the umbrellas they had been carrying. Would this be enough?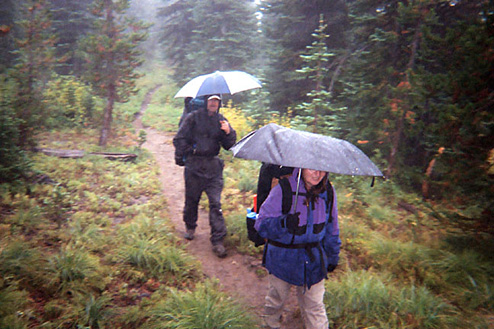 Kevin and Beth use their umbrellas for protection.
Like yesterday, it was not a time to linger on the trail. I headed directly for our destination--the Muddy Fork River and Lava Springs. I left the others and took a quick lunch under some fir trees. We passed some gorgeous campsites at trail junctions-one had a thin waterfall directly above it, but the rain kept me in moving. As I wrote in my journal, "I cursed the rain and felt my nylon pants wet my legs as if I were an incontinent grandpa. I was miserable but I continued without much despair."
I left Mt. Adams behind, sad to leave it and vowing to come back someday when there was plenty of sunshine. As I descended into the forest, the weather started to turn. It was misting and then the sun made a few brief stabs at the cloud cover. I soon arrived at the Lava Springs but found the campsite taken by hunters. After looking around for an alternative, I went back on the trail about 1/4 mile toward the Muddy Fork river. Here was an off-trail site with plenty of creek water and a fire ring. When I got there, Kevin had already arrived. "I knew this was the place we wanted," he said.
I immediately got out the tent and the rainfly and put them on a hillside above the trail where I hoped they would catch some sun. Out also came camp socks, shirts, nylon pants-anything that could benefit from drying. I put on polypro tights and my rain pants to give the nylon a chance to dry off. But would there be enough sun to do the job?
Into our campsite marched a through hiker. His name was "Huff'--the guy that Tyson had told me about a few days ago. He was looking for other hikers that may have passed along the way, but I hadn't seen anyone. So he quickly hit the trail again, his black-garbage-bag-covered backpack making rustling sounds as he set off.
Kevin made a toasty fire and we tried to dry off our socks and shoes. It started to mist again so I quickly set up the tent and rainfly-they had dried off a little bit. I was already missing the cognac and it was only the third night of the trip (On the section with Rick, the booze had lasted six days). Well, it is the price I must pay to travel with other editors, I said. Working with words often drives us to drink.

Day Eleven
Day Twelve
Day Thirteen
Day Fourteen
Day Fifteen
Return to Tom's PCT Page