Day Two
Cedar Creek to Rock Creek
12.9 miles
Summary: Can be hot and dry. Take lots of water or stop at every opportunity to fill up. Guidebook has some errors on one water site. Lots of great views make this stretch memorable.
It was going to be an ambitious day with just a few water sources, but the sun was out and our spirits were high. The trail slowly climbed up a ridge where we got our first look at Mt. Adams far away in the distance.
"What mountain is that?" Rick asked.
"That is Mt. Adams, our destination," I said, looking at the tiny volcanic peak floating on far, far horizon.
"O my God," Rick blurted out. It really looked like it would impossible to reach it in a week. I didn't say anything, but I felt the same. "Is this really going to be possible?" I wondered.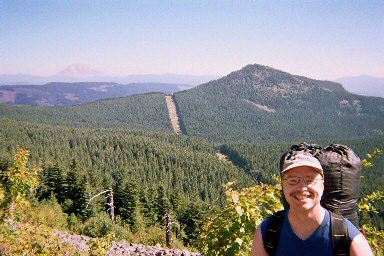 Mt. Adams floats on the horizon to the left. Could we make it there in a week?
We marched on. At times Mt. Hood would come into view and then slices of the Columbia River far below. The landscapes were so remarkable that I felt like I was walking through a painting by Thomas Moran or one of the Hudson River school of painters. Later we saw Mt. Rainier far away in the distance, the ultimate goal for me since it marked the end of the two-week trip.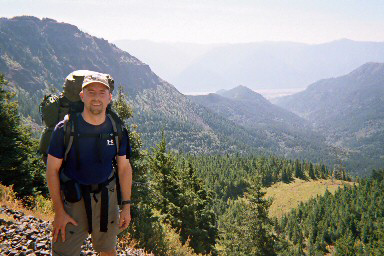 We could see the Columbia River and its gorge from the ridges.
The guide book described a long morning climb out of the gorge, which was true. However, it was wrong about a water source near Three Corner Rock. The book said there was an obscure side trail and a hiker could "gamble" that water would be found in a dirty trough about 1/3 mile from the PCT. In reality, the side trail was clearly marked with a sign. Also, instead of dirty water in a horse trough, someone had rigged up a hose from the spring to the trough. Clear, pure water poured from the hose. This was no gamble. We easily filled our water bottles from this stream and didn't have to treat it.
Filling my canteen at the trough near Three Corner Rock.
Since we were so close, we took the guide book's advice and continued to Three Corner Rock, where we ate lunch. I gazed upon four Cascade volcanoes from that one spot-Mt,. Hood, Mt. St. Helens, Mt. Adams and Mt. Rainier. I told Rick that in my 23 years of hiking in the Cascades, I had never beheld four volcanoes at once. Rick tried to take a panorama with his digital camera-it was just too difficult to capture the beauty with my disposable Kodak.
Then it was five miles mostly downhill without water to Rock Creek. We were dead tired and took the very first campsite we found at the side of the creek. Rick was in love with the location. Day One's campsite was at the end of an abandoned road, now we had a real wilderness campsite in old growth bordering a deep creek. There was a pool deep enough for both of us to take a quick swim. The rocks were speckled with green flecks-copper said Rick, who studied geology in college.
As we were making our tuna and pasta dinner, a grizzled old man suddenly appeared on the trail with a light pack and trekking poles. I asked him how long he had been on the trail, and he said since April. We soon learned that this was the legendary Billy Goat, a 64-year-old on his third PCT through hike who is also a diabetic. He hikes about 25 miles a day and his wife-Mountain Mary-follows him with their RV to help resupply his food.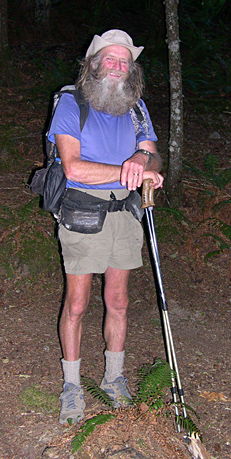 The famous 64-year-old through hiker--Billy Goat.
Billy Goat sat down and talked with us for about two hours. He didn't take the shuttle around the fires in Oregon, he just hiked along logging roads west of the closed PCT section instead. "It only added a half a day to my trip," he said.
Billy Goat was a purist. He didn't like the fact that many hikers took advantage of the shuttle or other shortcuts. "They'll take any shortcut they can to get their miles in," he complained. He also felt water caches in the Southern California desert were a mistake. "You don't appreciate water unless you have to carry eight quarts of it across the desert," he explained.
He found that the PCT had changed since he first hiked it in the 1980s. Now there were too many college-age hikers who wanted to party in every town along the way. "There aren't many outdoorsmen left on the trail," he said.
We also talked about the trail conditions, the AT versus the PCT, and long-distance hiking legend Brian Robinson (who did all three national trails in one year). Before I knew it, the pasta had burned the bottom of the pot while I sat and listened to Billy Goat's tales. I took a photo of Rick and Billy Goat and finally he hiked off to sleep near the creek. It was so late and so dark that we slept with our food in the tent-something Billy Goat said he had done the whole trip-even in Yosemite.
Day Three
Day Four
Day Five
Day Six
Day Seven
Day Eight-Part One
Day Eight-Part Two
Day Nine
Day Ten
Day Eleven
Day Twelve
Day Thirteen
Day Fourteen
Day Fifteen
Return to Tom's PCT Page