Day Three
Rock Creek to Trout Creek
9 miles
Summary: You go up to the top of Sedum Ridge and then down, down to the flood plain of the Wind River. Not many views or much water make this one of the dullest sections.
Our first rather dull day of hiking took us up a creek tributary to Sedum Ridge, where the trail paralleled an old mining road. We had to get water early in the hike since there would be a 7 mile stretch without anything until Trout Creek. Rick's Achilles tendon was bothering him so we took the climb up and down the ridge slowly. The one strong point was the continued abundance of old growth cedars and Douglas fir. I had never seen much lowland old growth forest before. Now we were cruising through it-except for sections that had already been logged over.
Near the end of the day we came to an overlook where I found, in the distance, a crane towering above the tree tops. It was the University of Washington's Wind River Crane, where forestry scientists study the ecology of the old growth canopy. Since I work for the UW I had heard a lot about it, now I saw it in action.
We lumbered down the ridge and found that our potential campsite at Trout Creek was near a road and a bridge. The site had a couple picnicking at the table, so I continued over the bridge to see if I could find a site on the other side. No such luck, so Rick asked them if they were going to leave soon. They were very nice about giving up the campsite so that we could use it.
There was a table, firepit and even a tent site--what luxury. However, the occasional car on the road took away any feeling that we were still in the wilderness.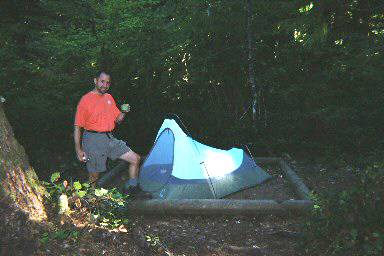 Rick toasts our tent site--groomed by the Forest Service for PCT hikers.

That evening we had chicken curry with couscous-one of my most successful backpacking dinners. We also met more through hikers-Boy Scout and Salty Bitch, a couple from New Jersey. While Boy Scout had hiked the AT, this was Salty Bitch's first long backpacking trip. She said it was very hard at first, but now she had gotten into the rhythm of it. I asked how she got her trail name, and she admitted that she was outspoken at times and not afraid to piss other people off. At the end of the conversation, her boyfriend said, "Come on Salty, we need to get going." I was amazed that even he used this pejorative trail name for his girlfriend.

Day Four
Day Five
Day Six
Day Seven
Day Eight-Part One
Day Eight-Part Two
Day Nine
Day Ten
Day Eleven
Day Twelve
Day Thirteen
Day Fourteen
Day Fifteen
Return to Tom's PCT Page