Goat Rocks Journey Along the Pacific Crest Trail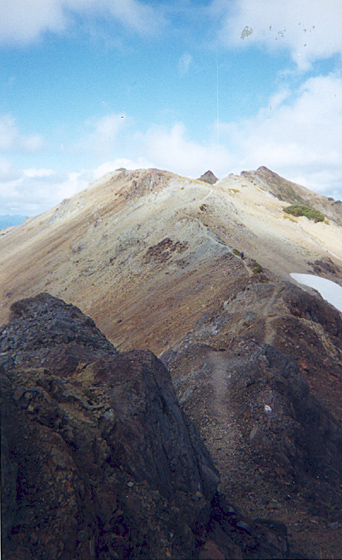 The trail snakes along the crest of the Goat Rocks.
Introduction: A 2002 PCT Hike?
As Harvey Manning and Ira Spring describe it, the PCT through the Goat Rocks Wilderness includes "the highest Washington section of the Crest Trail and also the most dangerous." They continue, "The tread can be seen-blasted out of cliffs, gouged in scree slopes, in some places the crest of the ridge has actually been leveled off to give walking room."
After a serious illness last year, I vowed to visit this section of the Pacific Crest Trail, only a two hour drive from my home in Seattle. It was part of a personal experiment to try out lightweight backpacking and to see if I had recovered sufficiently to take on the possibility of hiking all the Pacific Crest Trail in my state-in sections. After all, I had already hiked the last section to Canada (see PCT Harts Pass to Canada--Almost.)
After reading the lightweight arguments on the PCT listserve for five years, I finally took the plunge and had a "total makeover." The Vasque Sundowner boots were replaced by New Balance 805s trail shoes... The old frame backpack was replaced by a Go Lite Gust backpack... The old REI half dome was replaced by a Clip Flashlight... The old Peak One stove was replaced by an MSR Pocket Rocket... I won't go on, you get the idea.
I figure I saved seven to 10 pounds with this new, lightweight approach. It made a huge difference in my experience. For once, I wasn't dead tired when we made it to a camp site. I did not have to strip off my boots as the first order of business and let my feet try to relax. They were already relaxed! No blisters, no sore shoulders, few aches and pains--remarkable for a guy approaching the half-century mark. I'm a believer in lightweight backpacking now.