Cousins on the Run
Columbia River to Mt. Adams
August 30-Sept. 6, 2003
82 Miles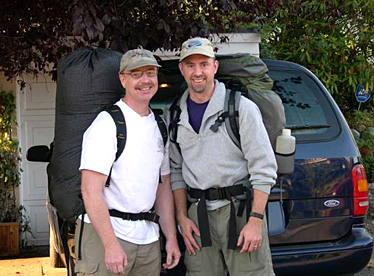 Tom (left) and Rick pose at Tom's house in Seattle before setting off.
My cousin Rick is 11 years younger than me and has asked me for years about joining my annual backpacking trip. He lives in the Washington D.C. area and sometimes comes out to Seattle for computer training or installations. Last winter when he came for a brief visit, I told him about my plans to hike Section H of the PCT. He was enthusiastic from that moment forward. He was able to talk his wonderful and gracious wife, Kath, into letting him go for a week, leaving her alone with three young children, 6, 4, and 2. He read up on lightweight backpacking, purchased lots of new gear and tried to get some exercise despite his high tech job and high demand family.
He would need all the preparation he could get. This first segment was the most ambitious leg of the trip. We would be averaging 11 1/2 miles a day and there would be stretches where there was no water for seven or eight miles. We would start on the lowest point of the entire Pacific Crest Trail--180 feet above sea level at Cascade Locks--yet soar to more than a mile above sea level at some points. Our goal was to make the rendezvous with the editors by noon the following Saturday. No wonder I call this week "Cousins on the Run."
Rick flew out on a Friday and we spent the afternoon and evening dividing up the food and trying to fit everything into our packs. My lightweight gear included a new Feathered Friends Swallow down sleeping bag, a Sierra Designs Clip Flashlight tent and a Golite Gust backpack. I would wear New Balance 850 trail running shoes as I did last year. I got my basic gear down to 16 pounds, but found that I overcompensated on food. My portion came to about 25 pounds so the first day I would be carrying 41 pounds--about six more than I wanted.
Saturday turned out to be a blessedly sunny day and Rob was on time to take us in the early morning to Oregon. It was a 3 1/2 hour drive that including avoiding a Labor Day weekend accident, but we made it by noon. The Columbia River Gorge east of Portland is a joy to drive and it was fun to hear Rick's reaction to the scenery. Suddenly we were at Cascade Locks and parked at the trailhead park next to the Bridge of the Gods for a quick lunch.
The plan was to cross the river and take the PCT about 7.5 miles to a small creek mentioned in the guidebook. Rob said he wanted to hike the first few miles with us before driving back. We loaded our packs one last time, shot some pictures, and we were off.
Day One
Day Two
Day Three
Day Four
Day Five
Day Six
Day Seven
Day Eight-Part One
Day Eight-Part Two
Day Nine
Day Ten
Day Eleven
Day Twelve
Day Thirteen
Day Fourteen
Day Fifteen
Return to Tom's PCT Page