Swarm Intelligence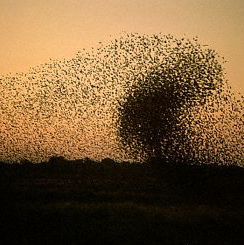 A huge swarm of red-billed queleas returns to the
communal roost at dusk, Okavango Delta, Botswana.


2005 IEEE Swarm Intelligence Symposium, June 8-10, 2005.

Swarm Intelligence (SI) is the property of a system whereby the collective behaviours of (unsophisticated) agents interacting locally with their environment cause coherent functional global patterns to emerge. SI provides a basis with which it is possible to explore collective (or distributed) problem solving without centralized control or the provision of a global model.

Last update Feb. 3, 2005
---
Introductory Resources
---
Optimization Applications
---
Telecommunication Applications
---
Books
M. Dorigo and T. Stützle, Ant Colony Optimization, MIT Press, 2004.
M. Dorigo, G. Di Caro, M. Sampels (Eds.), Ant Algorithms, Springer, 2002.
R. Eberhart, Y. Shi, and J. Kennedy, Swarm intelligence, Morgan Kaufmann, 2001.
M. Resnick, Turtles, termites, and traffic jams, MIT Press, 1997.
---
Software
---
People
---
Events Last update Feb. 3, 2005
payman at jpl.nasa.gov