Favorite Hikes in the Pacific NW

---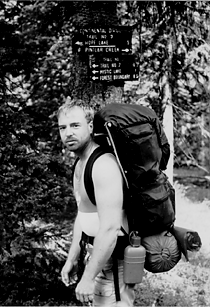 Tom Griffin on the Continental Divide trail in Montana. Photo by Stuart Goldsmith.
Last updated October 27, 2003.
Visit my Pacific Crest Trail pages for a full report on several PCT section hikes in the state, including my 150-mile trip in 2003 from the Columbia River to White Pass.
Worried about crossing rivers? Try Advice on Crossing Rivers.
Want to know about Mt. Rainier? Here's A Climb of Rainier in 1977 by a PCT Hiker.
I love Washington State and here is a Brief Account of the Pacific Crest Trail in Washington.
PCT hiker Craig Giffen put the entire text of the 1945 classic, Pacific Crest Trailway on line, but you will be reading it from jpg scans rather than text files. Thanks Craig!
An account of my 1997 backpacking trip to Yellowstone's Bechler River Valley, including many pictures in color. (We could have used that river crossing advice!)
Here is an old (pre-Web!!!) file with some of my favorite NW hikes Tom Griffin's Favorite Hikes.
Here is an on-line planner that can help you determine the number of days and the number of miles you will need to take between PCT supply points, Craig Giffen's PCT Planner.
Here's an "enchanting" description of an early autumn visit to one of Washington state's most scenic wilderness destinations, Jeffrey Olson's Enchantment Lakes Trip Report
If you want to hike in Washington state, be sure to check the excellent trail report pages at the Washington Trails Association.
Here is a link to the Pacific Crest Trail Association Home Page.
Here is the Home Page for the National Forest Service for Oregon and Washington, Nature of the Northwest.
Here is a page on National Forests in Washington State from GORP, an outdoor recreation database, Wash. St. National Forests.
Here is a page on National Parks from GORP, U.S. National Parks.
Here's a picture of me sitting on a log with my beloved Mariners' hat. Can't remember which hike this was.
Here is a file of rec.backcountry posts about blisters, a particular bane of mine, Advice on Blisters.I updated this file after a 55-mile backpack trip, where I successfully kept the blister problem down to a minimal level. If you have new advice not contained in this file, please send e-mail!
To send me e-mail, try griffinte@attbi.com