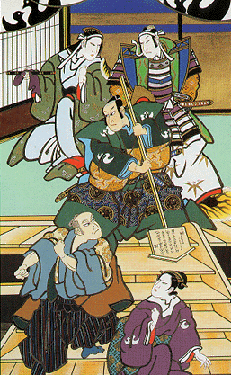 Onna Kabuki
---
In 1603 a shrine maiden from Izumo named Okuni and her fellow dancers performed a dance in a dry riverbed in Kyoto. Kabuki ("music/dance/craft") soon became incredibly popular. But in 1629 the government banned women from performing Kabuki.
Kabuki performed by women continued continued in fragmentary form underground over the centuries, until Onna Kabuki resurfaced in the middle of the Meiji Period. One of the leading actresses of this revitalized women's Kabuki was Ichikawa Kumehachi, a disciple of the Ichikawa School of Kabuki. Nagoya Musume Kabuki is the modern day troupe which is in the direct lineage of the Ichikawa School.
Kabuki performances by female troupes were very popular between 1890 and 1923. More recently, the Ichikawa Girls' Kabuki troupe was popular around 1945.
Nagoya Musume Kabuki was established by four women in 1983. In 1985, it gave its first public performance. Licensed by the head of the Ichikawa School, Nagoya Musume Kabuki performs not only in Nagoya but also in Tokyo and other places in Japan. Currently the troupe consists of 27 members, including the four founders. The company includes a musical accompaniment section whose members play traditional Japanese instruments and also perform independently.
---
Nagoya Musume Kabuki - Japanese page
Nagoya Musume Kabuki at Anmaro Asia Arts
Nagoya Musume Kabuki notes on ACT 98
Ohno Sensei - Hanayagi Fumiryu - Kabuki Academy
Anne Armstrong's Japan Cyberpedia - Nagoya Musume Kabuki
Mei Kurahashi kenshi/Musume Kabuki actor
---