Charles Ostrander Roe
Born December 16, 1865, Ostrander, Washington. Died February 27, 1948, Forest Grove, Oregon.
Forest Grove News-Times newspaper, March 4, 1948, page one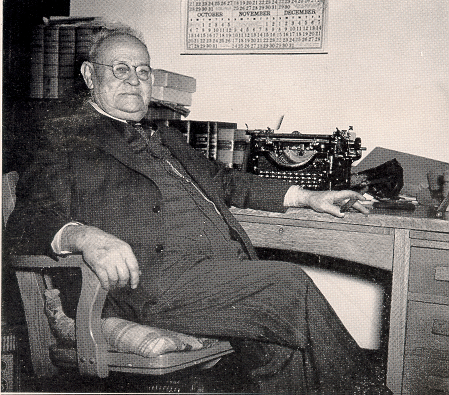 [caption of photo] Charlie Roe will be remembered by most folks as he appears above at his desk on the city hall's second floor. With cigar in hand, he heard cases, administered fines and, when business was dull, passed the time of day, often with state police who wrote their reports in his office. One of his primary tasks each Monday was to see that lunch was ready on time "for the boys" of the chamber of commerce. It most always was, too...
LAST TRIBUTES PAID FOREST GROVE JUSTICE
Friends, relatives and business colleagues paid final tribute Monday afternoon here to Charles Ostrander Roe, 82, lifelong resident of this area and justice of the peace for nearly ten years.
Mr. Roe died suddenly Friday morning [February 27, 1948] at his home at 116 Third Avenue SE [later redesignated 2120 17th Avenue] as he was preparing to go to the office. The service was held in the Forest Grove Undertaking Chapel. The Rev. Ralph Veit of the Congregational church conducted the service. Mrs. H.B. Higby sang "End of a Perfect Day" and "No Nights There". Mrs. H.T. Smith was at the organ. Members of the state police force from this district acted as honorary pall bearers. Among those attending the services were representatives from county offices in Hillsboro. Interment was in the Portland crematorium.
Public Offices Held
Charles O. Roe, called "Charlie" by many of the people who knew him, was born December 16, 1865 at Ostrander, Wash. He was brought to the Forest Grove area by his parents at the age of seven months. With the exception of three or four years when he worked in a Tacoma, Wash. grocery store as a young man, Mr. Roe spent most of his life in this area.
On October 13, 1895 Mr. Roe married Belle Clark in Forest Grove. Mrs. Roe died in 1942. For several years he operated a second hand store with John A. Abbott. In 1907 he and Claude Smith became associated in the furniture business. For 12 years he was superintendant of the Washington County Home.
Mr. Roe served terms on the city council and the grade school board. He also acted as secretary for the chamber of commerce in conjunction with his work as justice of the peace, until James R. Shick took on the secretarial work early in 1946. He was serving his second full term as justice of the peace, having been elected to the first term of six years in 1938.
Active in Lodges
For more than half a century Mr. Roe was a member of Delphos lodge, Knights of Pythias, and Holbrook lodge No. 30, A.F.& A.M. He was a past chancellor commander of Delphos and a past master of Holbrook lodge. He was also a member of the B.P.O.E.
Surviving are a son, C. Bruce Roe, Coos Bay; three granddaughters; two nieces, Mrs. R. E. Bolling, Forest Grove; Kate Roe, Gaston; nephews, Thomas Roe, Gaston; Charles Roe, Tacoma.
---
Notes describing the work of a justice of the peace in Oregon in the 1930's and 1940's.
---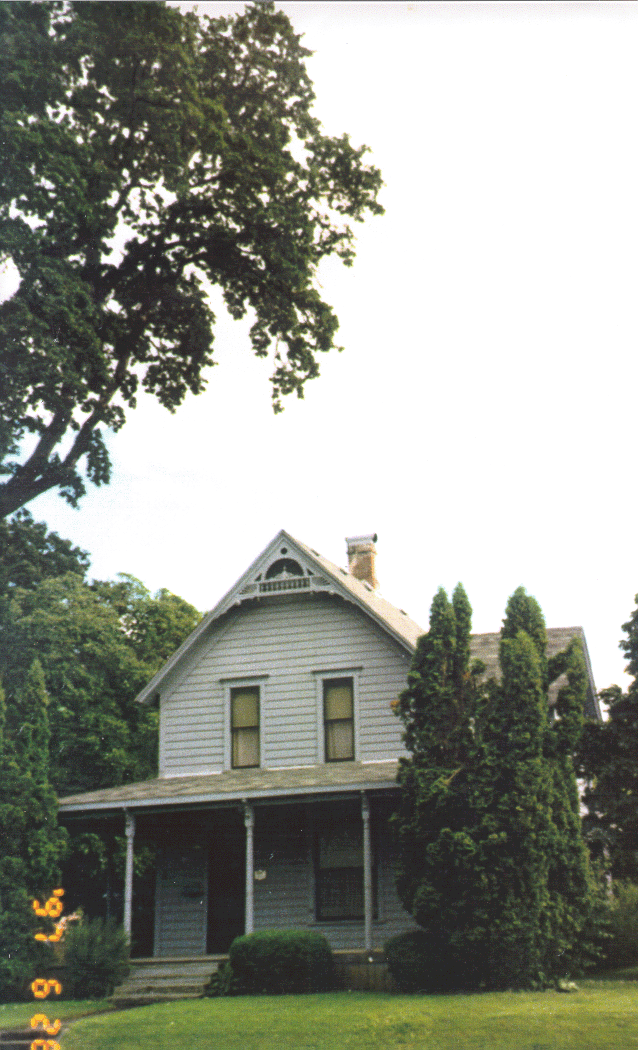 C. O. Roe House 1897
---