HighEdWebDev Conference
Rochester, New York, October 14-17, 2007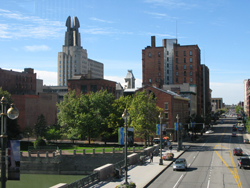 Beautiful Downtown Rochester
Topics
Once more I made the long pilgrimage to upstate New York to attend the HighEdWebDev Conference, a gathering of some 410 higher education Web developers from 21 states (and a few foreign countries).
Hot topics were home page management in emergencies, social networking software, and Web 2.0. The following are some personal perspective notes on the discussions.
One of our guest speakers was Michael Dame, Director of Web Communications at Virginia Tech (WCVT), who described events at Virginia Tech in response to the mass shooting in April, 2007. Some key points are the following:
Because of earlier event the WCVT team already had a "lite" version of the home page ready for use. The page had a minimal number of links, had no large files, had a visual look created only with CSS, and dedicated the main central part of the page was to news entries about the crisis.
As soon as news of the crisis reached WCVT, they warned the Web site manager to expect a massive increase in traffic, and then prepared the lite home page. True to the warning, by noon on the day of the shooting visits to the VT Web site spiked to 20 times the usual amount. Volume eventually rose to 30 times the normal load and did not fall off for more than two weeks.
Three public information officers, each in touch with the VT crisis management center and each with a specific "beat", became the ONLY sources of information for items on the lite home page. News was not accepted from any other sources, no matter how high placed or officious.
The lite home page had only brief news items. Where additional news was available it was placed on a Details page and linked to the relevant item.
Everyone on the crisis team was inundated by emails, phone calls, media requests, etc., requiring constant efforts to stay focused.
Everything was done with the needs of the students and families in mind.
A condolences page was created and received 35,000 entries. All entries were reviewed before being posted (some racist messages were submitted).
A page was created with links to condolence messages from other higher education institutions.
Staff, including photographers, participated in faculty, staff, and student events, sending back items and photos for use on the Web site. Faculty member and poet Nikki Giovanni provided a theme in a speech where she said "We are the Hokies. We will prevail!" The theme was immediately used in the Web site.
With the tragedy still an open wound, there was a strong desire to begin recovery, but it needed to be done carefully and not hurried. Plans were made to use the home page site as a catalyst for recovery to begin healing, share remembrance, nurture rebirth, and continue to invent the future.
Guided by the careful (and compassionate) planning, gradually in the weeks following the shootings the Web site look and feel was transitioned from a simple mourning look dominated by black, to shades of gray showing Hokies recovery and remembrance activities, to more colorful designs showing more normal constructive activities (joggers, students studying, sports, classes). The WCVT received high praise for its slow and careful transition through these stages.
As final points, Dame recommended regular "fire drills" to sort out roles and responsibilities and to better understand possible scenarios. He felt that it was especially important to plan for family matters that crisis team members will want and need to respond to. Finally, he said that an important goal of the exercises and planning is to be able to set politics aside when a crisis develops and to leave matters in the hands of calm, collected (and protected) doers.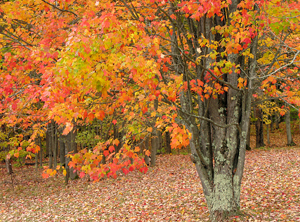 Leaves in Western Pennsylvania
Apple's George Cook, a consulting engineer for Apple's education sales division, kicked off the Web2.0, social networking discussions by first defining Web 2.0 as Web activities involving sharing, media, interactivity, and live presentation. Then he asserted that success in these activities is determined by the user's personal outcomes, including socialization, usefulness in the user's context, engaging to the user, and building connections with others. Focusing on technology without nurturing these outcomes will be pointless. Sites he felt addressed the personal outcomes of their users included the following:
Mark Heiman of Carleton College talked about Carleton's exploration of social networking software. Interest in building social networking among all Carleton-ites is strong, but how to go about it? Could Facebook be the social arena?
Younger folks like Facebook. Older alumni, while very online, do not seem comfortable in Facebook.
Facebook offers limited control of branding and limited opportunities to integrating institution information
Facebook is too big an arena. Carleton students and alumni like to interact with each other, not necessarily when mixed in with people from other institutions
Facebook provides great methods for external content integration, but integrating content in Facebook with other environments is very difficult - what goes in, stays in. Content that is put in Facebook is not found by Google - a major problem.
Carleton is experimenting with ELGG, an open-source social environment with lots of features (tagging, rss, friends, communities, aggregator, branding). Integration with Carleton's other activities is the goal (not isolation within a product's garden walls). The trial ELGG site is at http://elgg.carleton.edu/.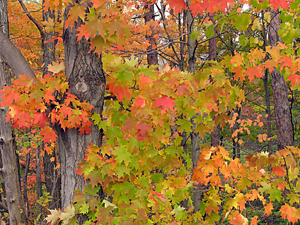 Fall color in New York
Larry Borowsky, who manages the successful sports blog Viva El Birdos, gave a half day workshop on blogs and online communities in higher education. Examples of sites we visited and discussed are the following:
Some observations about these sites:
Where comment posting is allowed, the comments are often expressive comments only ("right on!", "amen", etc.), which may not be what the poster had hoped for. A major reason people post is just to assert their own existence and viewpoint. More analytical give-and-take is likely to be of much less interest to many readers. We felt that the value of such expressive posts should be recognized as a useful and significant social function of blogs in that it helps build presence and participation in a community.
Commenters talk to each other, commenting on postings by others, another process that creates a sense of community.
Long delays between posts are deadly to any sense of interactive community.
The students hired to post occasional messages showed real skill in making interesting entries that evoked many comments.
Postings that evoke responses have a conversational tone or personal viewpoint which invites interaction. Institutional, marketing, or sloganizing posts get few comments.
Larry had some general rules for launching and conducting a blog:
Attracting a community takes work. Use posters, postcards, or leaflets. Link to the blog in many places. Mention the blog when talking to people.
Content should have six characteristics:

Constant flow of postings - Post something at least once a week. Long interruptions break the community connection.
Civil tone - Make respect for a variety of viewpoints inherent in posts.
Conversational
Challenging - Not necessarily controversial. Invite people to think. Could present a viewpoint that runs counter to conventional wisdom.
Connected - Link to other sources of information on the topic. When presenting a viewpoint, also link to your sources.
Credible - Posts should have an identifiable author

Stimulating comments is OK. Solicit imput by asking for reader's opinion, asking for help, or doing online polls. If things slow down, ask some members of the community to post some comments to try to "seed" new energy.
Think about who you envision as part of your community and what will be of interest to them.
Close comments on a post after a reasonable period of time. Doing so helps focus activity on the blog and limits problems with blog-spammers putting up junk postings.
Have rules. Post rules of engagement, including a reserve clause that give blog manager the power to do whatever is necessary to perserve the blog and its community, including blocking offending users.
Finally, Larry differentiated between the social models of blogs and Facebook-like environments.
Blogs are like newspapers or conferences. Identifiable authors present statements in a context where users can respond and interact, providing sources and connections to related actvities. A very adult model.
Facebook-like products are more like a bunch of people in a room, milling around and interacting. They provide an environment where the users is gently poked about things they have said they are interested in. Expecting people in such an environment to stop and have a serious discussion is optimistic at best. It is more about buzzing together.
Much more I could talk about but I will stop there.