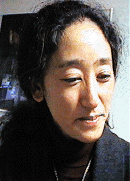 Karen Tei Yamashita
born January 8, 1951, Oakland, California
Carleton College, BA, Phi Beta Kappa, with degrees in English and Japanese literature
spent junior year in Japan as an exchange student at Waseda University
from 1975 lived for 9 years in Brazil, and later researched the Brazilian community in Japan
currently lives in Santa Cruz, California
married Ronaldo Lopes de Oliveira, a Brazilian architect
son Jon and daughter Jane
She teaches creative writing and Asian-American Literature at the University of California at Santa Cruz, Kresge College
novelist, short story writer, playwright; member of Amerasia Journal editorial board, 1994 to present
Brazil is the setting for her first two novels, Through the Arc of the Rain Forest, 1990, awarded the American Book Award and The Janet Heidinger Kafka Award; and Brazil-Maru, 1992, named by the Village Voice as one of the 25 best books of that year.
Her third novel, Tropic of Orange, 1997, set in Los Angeles, was a finalist for the Paterson Fiction Prize.
Her fourth book, Circle K Cycles,, 2001, grows out of her experience of the Brazilian community in Japan.
Other writings include Omen: An American Kabuki, 1978; Hiroshima Tropical, 1984; Kusei: An Endangered Species, (with Karen Mayeda) 1986; Hannah Kusoh: An American Butoh, 1989; Tokyo Carmen v. L.A. Carmen, 1996; GiLAwrecks, 1992; Noh Bozos 1993. Also short stories including "The Orange," "The Bath," "Tucano," "Asaka-no-Miya," "The Dentist and the Dental Hygienist," "Madama B," "The Last Secretary." Also essays on literature and writing appearing in diverse settings including A Japanese American Anthology, 1975; Contact II Poetry Review, 1986; Chicago Review, 1993; Circle K monthly journal series; CafeCreole website; and contributor to Rafu-Shimpo Los Angeles Japanese-American newspaper.
---
Karen Tei Yamashita/Ryota Imafuku interview
An Interview with Karen Tei Yamashita by Jean Vengua Gier and Carla Alicia Tejeda University of California, Berkeley
---