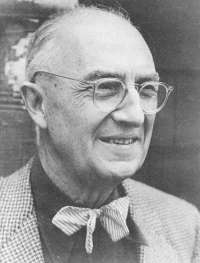 William Carlos Williams
"No ideas but in things"
---
b. September 17, 1883 Rutherford, New Jersey -- d. March 4, 1963 Rutherford, New Jersey
attended schools in New Jersey, Geneva, Paris, and New York City before entering the medical school at the University of Pennsylvania in 1902
University of Pennsylvania, MD 1906
postgraduate study University of Leipzig 1909-1910
m. Florence "Flossie" Herman December 12, 1912
children: William Eric b. 1914; Paul b. 1916
practiced medicine all his life in Rutherford, New Jersey
good friend of Ezra Pound, whom he met in college and with whom he engaged in extended dialogues about the nature poetry; later suffered for this friendship, but never gave it up
pediatrician to the child Allen Ginsberg
visiting professor of English, University of Washington, Seattle, 1948
visited Reed College, Portland, Oregon, 1950, where he encountered and encouraged the young Philip Whalen
wrote the introduction for Allen Ginsberg's first book of poetry, Howl and Other Poems, in 1955.
---
WCW at Academy of American Poets
WCW at Literature, Arts, and Medicine Database - includes links to texts and analysis of many WCW poems
WCW's Influence on Kenneth Burke - MLA conference paper delivered by David Blakesley, Purdue University, 1997
William Carlos Williams and Walt Whitman - essay by Eric Elliott
William Carlos Williams Review - online journal
Selected Poetry of William Carlos Williams - valuable University of Toronto site - from "Representative Poetry On-Line"
---