Ryoma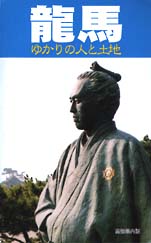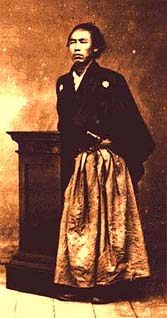 Sakamoto Ryoma
---
BOOK REVIEW Kendoists who have long hungered for another novel which would let them vividly experience the life of a great kenshi the way Yoshikawa Eiji's MUSASHI does, will want to try RYOMA: LIFE OF A RENAISSANCE SAMURAI, by Romulus Hillsborough, San Francisco, Ridgeback Press, 1999. List price, $40. This is the incredible true story of Sakamoto Ryoma, a Kendo activist in the mid-Nineteeth Century who played a key role and was a pro-imperial witness to the wars and struggles leading up to the Meiji Restoration. Born in 1836 into a family of Goshi (not hereditary samurai, but respectable people permitted to carry swords) in the castle town of Kochi, Ryoma had been a sickly kid whose life was rescued by the study of Kendo under the great Chiba Sadakichi Sensei. Several of our Japanese Ken-Yu have reacted very enthusiastically to the news that there is a new book available in English about Ryoma. One said to us "Ryoma and his friends had Samurai spirit with wisdom," and added, "I personally, love Ryoma Sakamoto. He is a real man!" Another wanted to share with us that in Japan, people can stay in the very old hotel in which the assassination of Ryoma took place. Ryoma looms large in the mythology of Japan's emergence into modernization. Many people believe that without him, Japan might not have kept its independence from foreign domination, and may have met the kind of colonial oppression suffered by some of the other Asian countries. He is also considered to be something like the father of the Japanese Navy, in that he was one of the early visionaries to realize that this island nation would need a modern fleet to defend itself and protect and promote commerce. Ryoma himself is such a romantic and exciting figure that it is simply fun to read about him, but then in addition he is so central to the main currents of his period that as his tale unfolds, one is also encountering many of the most influential personages of that era. Although Ryoma was passionate about the highest ideals and values, he was also the kind of warrior who plans on winning. He reminds one of the song, "I'm going down town with a razor and a gun... I'll cut him if he stands, and I'll shoot him if he runs." He felt his life had been saved by a Smith and Wesson revolver, so he added one to his customary equipment. Perhaps the single greatest influence on his life was his sister Otome, and unfortunately he had just given her his favorite pistol shortly before those assassins burst into his room (...to be continued).
---
RYOMA is available through your favorite bookseller, such as Amazon.com, but readers of the KENYU may obtain it for a 15% discount with postage waived simply by contacting the publisher Ridgeback Press directly through the 1 (800) 832-6134 phone number. All they have to do is identify themselves as members of the PNKF.
---
"Heaven's Revenge!" a voice screamed in the darkness. Throwing the lantern into the gutter on the side of the road, Izo immediately drew his sword. "This is Okada Izo of Tosa!" he roared. Blue light flashed off his blade, and a fraction of a second later the screech of steel cutting through bone pierced Kaishu's ears. "This is Okada Izo of Tosa," he repeated, "but you might know me better as 'The Butcher.'" Izo's warning must have worked, because after he had cut down his second opponent, a third man could be heard running in the opposite direction, the only other sound the steady falling of the rain. --Romulus Hillsborough, RYOMA: LIFE OF A RENAISSANCE SAMURAI.
---
Ryoma spent the night at an inn in the castletown. Early the next morning a young samurai came to escort the celebrated Tosa swordsman to the official martial arts training hall of Choshu. "Sakamoto-sensei, we've all been waiting to see a demonstration of your excellent swordsmanship," Kusaka's messenger said. Ryoma's reputation was still that of the distinguished former head of the Chiba Dojo. There was not a swordsman in all of Hagi Castletown who was not aware that Ryoma had defeated the esteemed Katsura Kogoro in a fencing match several years before. --Romulus Hillsborough, RYOMA: LIFE OF A RENAISSANCE SAMURAI.
---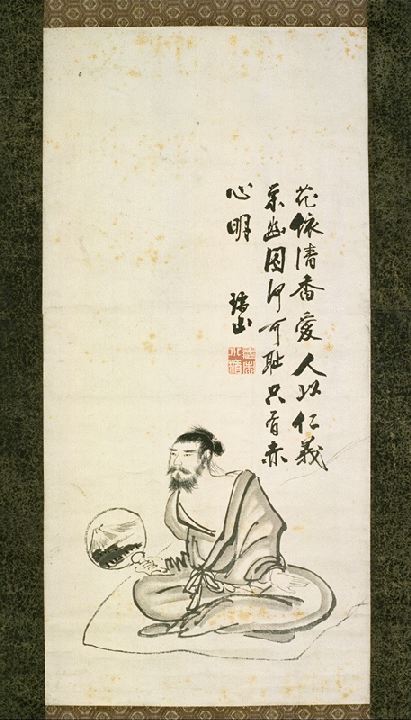 Ryoma's teacher and friend the great Takechi Zuizan
---