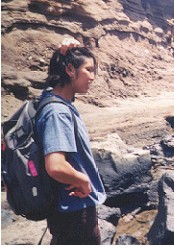 Pamela Lu
born Huntington Beach, California ("a provincial region of Southern California")
University of California, Berkeley, mathematics
since 1995 she has worked as a technical writer in Silicon Valley
lives in the San Francisco Mission District
---
Her nonfiction book, Pamela: A Novel (Atelos Press, 1999), is about San Francisco writers in their 20s. It is vexed, complicated, and a great read.
Her work has appeared recently in Clamour, Interlope, Log, Poetics Journal, and Shark.
joined the board of Small Press Traffic, September 17, 1999
"In my work," Lu has said, "the sequence of short, anecdotal paragraphs serve as a reproduction of my private storytelling which filters through discontinuous and disjointed events in an attempt to chase some continuity in mood or emotional truth, if any exists." (essay "Begin in Singing," the source for the above quote in ABR, Volume 23, Issue 5)
---
Idiom: A Story of Anti-Production, or The Triumph of Sloth, by Pamela Lu
--excerpts at Interlope from Pamela: A Novel by Pamela Lu
--review of Pamela: A Novel by Pamela Lu in The Stranger
 Overeducated, smart, and poised, Pamela offers an egress
from the infinite regress of postmodern writing via blasting right
through the muck and mirth of posture and reflexive invention. Lu's
Pamela is a work drenched in the freshness of innovation and
quest, the un/American working of a poetics on the edge of expose',
gossip, posture, and revelation. 
-- [above excerpt from] Rob Wilson discussion of Pamela: A Novel by Pamela Lu in Boundaries
note at Small Press Traffic on Pamela Lu
from A Brief Chronicle of the Plasian Civil Conflicts
Pamela Lu to Magdalena Zurawski
Robert Smithson, Heap of Language, and American Hieroglyphic
---
Poetry Project - Tiny Press Center
---