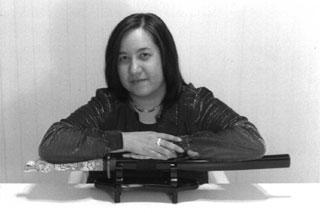 photo copyright MM Johann and Joanne LaRose, Ghetto Lamp Photograpy
...me and my wakizashi...
Karin Lowachee
Born in Guyana, South America, and about the age of 2 moved to Ontario, Canada, where she grew up. Visited London, England at the age of 6. In the year 2000 lived for 9 months in the tundra community of Rankin Inlet, Nunavut. Studied English and Creative Writing at Toronto's York University. Her first short story, Culture Shock was published in the Summer 1994 issue of On Spec.
---
Karin Lowachee Time Warner interview
Karin Lowachee Strange Horizons interview by Samantha Ling
---