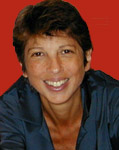 Cynthia Genser / Cynthia Kraman
earlier work appears under the name Cynthia Genser or as Cynthia Kraman Genser
now uses her original name Cynthia Kraman
has also written under pseudonym Chinas Comidas
born June 3, 1950, in New York City
father Eli Kraman
mother Esther Weinstock
University of Massachusetts, BA, 1972
Columbia University
is currently Associate Professor of English in the Honors Program at The College of New Rochelle, New York
---
In an early statement she wrote: "I'm attempting to position myself in the universe so as to read the books, which, as William Burroughs says, are out there. I like to hang out in bars and groceries and listen. There are people speaking the words in those places. I'm trying to be a writer a woman a human being in a world where those are all considered criminal activities."
---
Cynthia Kraman's books include Taking on the Local Color (Wesleyan UP), Club 82 (Workingman's Press) and The Mexican Murals (i.e.press). Her poems have appeared or are forthcoming in Antaeus, The Paris Review, The Southern Review and the anthologies Ordinary Women (Ordinary Women Press) and New York: Poems (Avon). An article in Time and Eternity: Proceedings of the International Medieval Conference in Leeds will be published this year.
---
Ordinary Women: Mujeres comunes : an anthology of poetry by New York City women edited by Sara Miles... [et al.] with an introd. by Adrienne Rich ; design and graphics by Lois Elaine Griffith and Mary Wagner. New York: Ordinary Women Books, 1978
two poems in Paris Review, issue number 57, Spring 1974
two poems in Paris Review, issue number 135, Summer 1995
two poems in Paris Review, issue number 157, Winter 2000-2001
three poems "The Touch," "Speak in the Dark," "The Old Old Truth" in Western Humanities Review, volume 55, number 1, Spring 2001
"Decoding the Knight's Tale: Chaucer's dark myth of creation," paper delivered at LEGENDA Reading and Writing Myth, UNIVERSITY OF LANCASTER, 15-18 JULY 1998
"Communities of otherness in Chaucer's Merchant's Tale," pages 138-154 in Medieval women in their communities, edited by Diane Watt (University of Toronto Press, 1997).
133874 GENSER, Cynthia Kraman. CLUB 82. Seattle: Workingman's Press, 1979. 63 pages. ISBN: 0935388001 Poetry. Genser is author of Taking On the Local Color, published by Wesleyan University Press & has appeared in Paris Review, Antaeus, Black Box, & Telephone Book. Workingman's Press was a collaborative effort by Barry Gifford & Gary Wilkie.
(#17567) Genser, Cynthia. TAKING ON THE LOCAL COLOR. Middletown CT, Wesleyan University Press, 1977. 1st edition. Qlty paperback, Octavo/6" x 8". Poetry by Cynthia Genser. 67 pages
---
some of her Mexican Murals poems
some of her Chinas Comidas discography
more on her Chinas Comidas discography, including sound clip
Cynthia at The Annex poetry and literature digital archive page
Cynthia at Women in Punk 1975-80 page
poem "Rainbow Over New Brunswick (From A Train)" in Switched on Gutenberg volume 5, number 1
Cynthia pictured with students at the College of New Rochelle
---