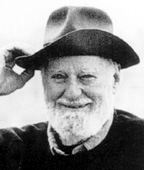 Lawrence Ferlinghetti
b. March 24, 1919, Yonkers, New York.
lived in France until the age of 5
began writing poetry in the late 1920's
got caught stealing pencils from the Five and Ten Cent Store the same month he made Eagle Scout
member of the "Parkway Road Pirates" gang
introduced to Baudelair by Sally Bisland
University of North Carolina, AB 1941
Columbia University, MA 1947
Sorbonne, Univerite' de Paris, Doctorate de l'Universite' With Honors 1949
dissertation entitled: 'The City as Symbol in Modern Poetry: In Search of a Metropolitan Tradition'
with Peter Martin, the publisher of City Lights magazine, opened City Lights bookstore in San Francisco's North Beach, 1953
published Allen Ginsberg's Howl in 1956
m. Selden Kirby-Smith April 1951 (divorced)
children: Julie, Lorenzo
politics: "Now an enemy of the State."
religion: "Catholique manque'"
military service: Lieutenant Commander US Navy; was commanding officer during the Normandy invasion; arrived in Nagasaki shortly after the atomic bomb was dropped
---
A Lawrence Ferlinghetti of the Web
Lawrence Ferlinghetti at Counterbalance Poetry
The Beat Page - Lawrence Ferlinghetti
---