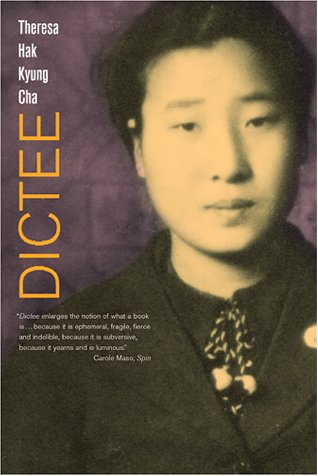 Theresa Hak Kyung Cha
b. March 4, 1951, Pusan Korea
m. Richard Barnes, 1982
d. November 5, 1982, New York City
older sister Elizabeth
older brother John, director of the Theresa Hak Kyung Cha Memorial Foundation
sister Bernadette
brother James
attended Ewha University Elementary School and Toksoo Elementary School
in 1962, the Cha family moved to Hawaii
in 1964, relocated to Northern California
with older sister Elizabeth attended the Convent of the Sacred Heart School
studied briefly at the University of San Francisco
in 1969 entered University of California Berkeley
1973 UC Berkeley, BA in comparative literature
1975 UC Berkeley, BA in art
1977 UC Berkeley, MA degree in comparative literature under Bernard Augst
1978 UC Berkeley, Master of Fine Arts degree in art practice under performance artist Jim Melchert
spent 1976 in Paris doing postgraduate work in film-making and theory with Christian Metz, Raymond Bellour and Thierry Kuntzel
returned to the Bay Area and continued the films and performances
moved to New York in 1980 working as a writer and video/filmmaker
in 1981 received an NEA grant and a post-doctoral fellowship to travel to Korea to shoot footage for a project called "White Dust from Mongolia"
returned to New York as an instructor and took a job
working part time in the design department at the Metropolitan Museum of Art
She was 31 years old and newly married. She had just received advance copies of her book Dictee. She
was preparing a piece for a group show at Artists Space in SoHo and this installation became a memorial for her
raped and strangled at the age of 31 just inside the door of the Puck Building in SoHo by a security guard for the building, Joey Sanza, on November 5, 1982, just seven days after the publication of Dictee


Works by the Author

Books:
Apparatus: Cinematographic Apparatus: Selected Writings(1980).

Dictee (1995). 

Films: 
Secret Spill (1974)

Mouth to Mouth (1975)

Recalling Telling ReTelling (1978)

Passages Paysages (1979)

Exilée Temps Mort (1981)

Performances: 
Barren Cave Mute (1974), at the University of California, Berkeley.

Aveugle Voix (1975), at 63 Bluxome Street, San Francisco.

A Ble Wail (1975), at Worth Ryder Gallery, University of California, 
Berkeley.

Life Mixing (1975), at University Art Museum, Berkeley.

Vampyr (1976), at Centre d'Études Américain du Cinéma à Paris.

Reveillé dans la Brume (1977), at La Mamelle Arts Center and Fort 
Mason Arts Center, San Francisco.

Other Things Seen. Other Things Heard (1978), at Western Front 
Gallery, Vancouver, and the San Francisco Museum of Modern Art. 
Works about the Author

Higa, Lori. Contact II 7.38-40 (1986): 24-25.

Keller, Lynn and Christianne Miller, editors. Feminist Measures: 
Soundings in Poetry and Theory. Ann Arbor: University of Michigan 
Press, 1996.

Kim, Elaine and Norma Alarcun, editors. Writing Self, Writing 
Nation. Berkeley: Third Woman Press, 1994.

Kim, Nan. "Mujeres en el Arte: Diez Perfiles--Theresa Hak Kyung 
Cha." Arte Internacional. Museo de Arte Moderno de Bogata, Colombia, 
January-March, 1994: 65-67.

"Other Things Found." in "Voices Stirring: An Anthology of Korean 
American Writing." APA Journal (Winter 1992): 43-47.

Lew, Walter K. Excerpts from, ΔIKTH DIKTE, for DICTEE (1982). (Critical collage, 1) 
Seoul, Korea: Yeul Eum Publishing Co., 1992.

Ng, Franklin, editor. The Asian American Encyclopedia. Volume 1. NY: 
Marshall Cavendish, 1995.

Stephens, Michael. "Korea: Theresa Hak Kyung Cha." The Dramaturgy of 
Style: Voice in Short Fiction. Carbondale: Southern Illinois 
University Press, 1986.

Whitney Museum of American Art Retrospective Exhibition, 1993.

Wolf, Susan. "Theresa Cha: Recalling Telling ReTelling." Afterimage 
(Summer 1986): 11-13.

Zia, Helen and Susan Gall, editors. Notable Asian Americans. NY: 
Gale Research, 1995. 



---
Theresa Hak Kyung Cha at Voices from the Gaps
Theresa Hak Kyung Cha at Art and Culture Network
Theresa Hak Kyung Cha at Electronic Arts Intermix
Josephine Nock-Hee Park "What of the Partition": Dictee's Boundaries and the American Epic
more on Theresa Hak Kyung Cha at the Henry
Theresa Hak Kyung Cha at the Orange County Weekly
poem "What Goes Without Saying" by Peter Schmidt
analysis of Dictee Laralynn Weiss, Georgetown University
how Dictee functions as a kut, by Wayne Stein
how Dictee functions as a kut, by Wayne Stein [archived text]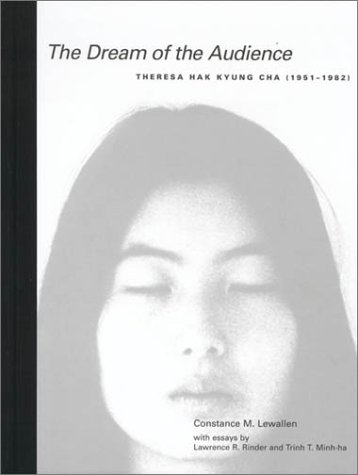 ---