Schmid Peoplemover System
---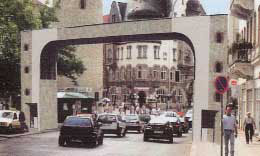 The Schmid Peoplemover is a passenger transport facility for overcoming obstacles as e.g. encountered in road and railway traffic. The Schmid Peoplemover is operated by pressing a button, like an elevator.. The wide automatic, power-operated doors will open on the same level as the walkway or platform, thus meeting the needs of the disabled.

The landing doors are designed in such a way that they will be unlocked only if the car is in the correct position.The car has a capacity of 600 kg or up to 8 persons. The car moves upwards vertically in a lifting device balanced by a counterweight. The trip is continued following a large arc to the horizontal plane without speed reduction and without jerk. The downward trip is then continued again through an arc into the vertical plane and the car smoothly approaches its original position. This permits the problems of obstacles encountered by persons in wheelchairs, disabled persons or prams in traditional crossings to be readily overcome. Therefore, the goal of providingcomfort and ensuring safety can be achieved.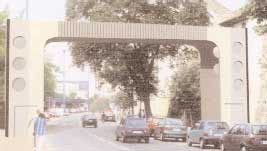 Variable in height and span, all design structural elements are prefabricated according to the different requirements. The Schmid Peoplemover can be installed at most locations within two to three days,
so unnecessary traffic obstacles and construction noise lasting for weeks is avoided. Thanks to the small floor space of the towers, enough room is left for passengers walkways and platform. In addition, the styling of the Schmid Peoplemover can be adapted to its surroundings. Individual options such as canopies on top of the entrance doors are possible, too.
Lastly, building a Schmid Peoplemover is far cheaper than constructing
a subway or underpass. People feel safer. Less space is needed in
comparison with building a pedestrian overpass bridge.

More information can be obtained from the Schmid Peoplemover website, which is only in German at this time, or by contacting Michael Böhm

---

---
Last modified: August 27, 2002