INNOVATIVE MAGLEV TRANSPORTATION SYSTEM --
FIRST OF ITS KIND IN THE COUNTRY -- TO BE BUILT ON
OLD DOMINION CAMPUS
ODU Press Release - December 10, 1999
---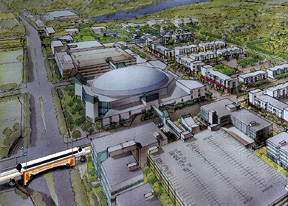 Twenty-first century transportation is coming to Hampton Roads, thanks to a $16 million gift and a
unique partnership between Old Dominion University, American Maglev Technology, the
commonwealth of Virginia, the federal government and Dominion Resources/Virginia Power.

Old Dominion will be the site for an American Maglev project that will be the first of its kind in the
nation: a transit system using "maglev" technology -- short for magnetic levitation -- connecting the
existing campus with areas of new development east of Hampton Boulevard. The system will use
specially designed vehicles that glide on an electromagnetic cushion on an elevated guide way.
Passenger service is slated to begin in spring 2001.

"American Maglev's commitment of $16 million for this project is the largest gift in university history,"
said Old Dominion President James V. Koch. "The maglev project will enable people to move to and
from the Constant Convocation Center and the new east campus much more efficiently," he added,
noting that the new transportation system would be free for all riders.

When completed, the maglev system will run from Whitehurst and Powhatan residence halls, across
Powhatan Avenue to 43rd Street, along 43rd Street and across Hampton Boulevard to the new
convocation center, with stations at the residence halls, 43rd Street parking garage and the
convocation center parking garage.(See Route Map).

Under the partnership, Old Dominion is the lead research university, with Lockheed Martin designing
the vehicles and guide rails and Dominion Resources/Virginia Power providing power equipment,
site power and other services.

"This project represents the first step in a seamless transportation system for the new millennium.
Our objective remains to connect the Hampton Roads region with Washington, D.C. by the 400th
anniversary of the founding of Jamestown in 2007," said Tony Morris, president of American Maglev
Technology. "This project keeps us on schedule to provide one-hour, $50 one-way service that can
help us change the transportation equation to our favor. In doing so, we can improve or otherwise
maintain our transportation quality of life."

American Maglev will fund the project, estimated at $16 million, from both private and public funds.
This includes a $7 million loan approved by the Virginia General Assembly and administered by the
Virginia Department of Transportation; $7 million from private companies, including Lockheed
Martin and Dominion Resources/Virginia Power; and $2 million approved by Congress for U.S.
maglev projects and earmarked for a Virginia project by members of the Virginia delegation. The
state loan will be repaid from proceeds of a future high-speed, revenue-producing maglev project in
Virginia.

The system on Old Dominion's campus will consist of a single vehicle, approximately 45 feet long
with a capacity of 140 riders, to run every four minutes at speeds of up to 40 miles per hour. The
elevated guideway, approximately 4,400 feet long, will be supported by concrete columns four feet in
diameter and spaced 140 feet apart.

As the host research university, Old Dominion's College of Engineering and Technology will be
involved in the development of the project and future enhancements of the technology -- "a marvelous
opportunity for our engineering and science faculty and students," according to Koch.

President Koch noted that while two experimental maglev transportation tracks exist in Japan and
Germany, maglev has never yet been successfully implemented on a daily basis as a functioning
transportation system carrying thousands of passengers.

"This presents us with an interesting scientific and engineering challenge that is especially
appropriate for our science and engineering faculty and students," he said. "We intend to make our
maglev system work and to establish it as an international model.

"However, ultimately, if we are not able to surmount all of the challenges in front of us, we will develop
an alternative transportation system on the backbone that we have developed. In addition, our
contract also contains a provision that requires American Maglev Technology to remove the system
from the campus at its expense, should that become necessary."
---
---
Last modified: January 13, 2000