Some Reasons Why Moscow is a Premier Market for PRT Applications
---
In Moscow during rush hours, the average speed of cars in the city centre is 6 kph (3.7 mph) Walking is sometimes faster. In the suburbs it is about 15 kph (9.3 mph). At other times the average speed of cars in Moscow is 33 kph (20.5 mph). The average speed of the Moscow underground is 40 kph (24.9 mph) at any time. Current forecasts indicate that in the future car traffic will finally stop because car ownership is increasing faster than roadway capacity.

In addition to the low speed of cars there are also other weighty stimuli for the public transport's big market share in Moscow. For example, Moscow was designed and constructed taking only public transport into account. Therefore, there aren't enough places to park cars in the city, especially in the winter. There are very few parking places near homes. One place in a remote garage costs the entire salary of the average resident for three years of work.

Air quality is very bad because of the large volume of exhaust gases from cars in Moscow.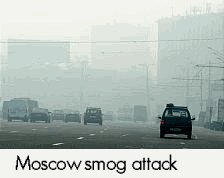 That said, the main question is: Is there a market for PRT in the Moscow - or is the market potential better elsewhere in the world? Does PRT have enough capacity for a large and dense city like Moscow?

The capacity of multilane PRT lines is unlimited. And lanes can be added not in width only, but in height also!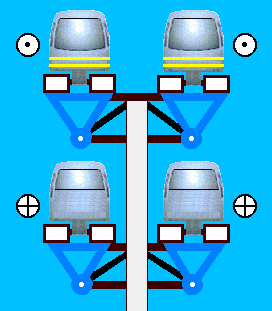 All these lanes can be suspended on the cables. This type of structure will reduce the requirements for the rigidity of beams.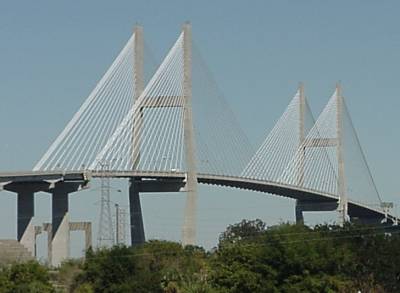 It's very easy to increase the capacity of PRT and Dual Mode stations by adding parallel tracks.



Large stations or clusters of small stations allow to reduce the number of long acceleration and deceleration lanes.

In cities with high population density the small PRT stations can be constructed near to each lift of an apartment house! (See the SkyTaxi website for more details)
With a new system like PRT, it is better to start with an easy market. Moscow should be an easy market and an almost ideal place for construction of PRT, because of its:

high population density, (see aerial photo of a Moscow suburb)

scattered allocation of workplaces and a dispersed trip pattern over a large area,

absence of compact central business district,

traditional "radial and ring" transport network that complicates trips from one outlying district of the city to another,

presence of airports and satellite towns in close-in Moscow suburbs,

very bad transport infrastructure (roads, road junctions, car parks) which soon be unable cope with growth in automobility
Moscow attributes that are favorable to PRT applications
Numerous investors live in Moscow

80 % of the Russian capital is located in Moscow. The Moscow Government controls big and rich groups of Russian companies in many industries (power supply, mobile communication etc.).

The Moscow Government annually spends many billions of US dollars for construction of new highways and lines of the underground. There is no turnpike toll in Moscow and so the money from the general Moscow budget is used. It would be better to appropriate this money for the creation of PRT.

Moscow is a place with a favorable investment climate

Most foreign investments in Russia are located in Moscow. Foreign investors have many advantages. The political support of the Mayor of Moscow guarantees the success of any business. All joint projects between western companies and their Russian partners are always very successful.

Good and experienced management available

The Moscow Government has the unanimous support of voters due to its successful efforts in construction and reconstruction of highways, offices and apartment houses.

The Moscow Government has carried out some new transport projects, including two monorail lines (a Western train was adapted for the severe climate), several lines of elevated light railway (domestic project) and a high-speed railway line to Berlin (a la TGV – done together with the Berlin Municipality).

Very qualified and low cost designers are available in Moscow

Moscow has great achievements in R&D in the following industries (partial list):

Vehicle design (automobiles, trains, ships, jets, spacecraft) and computer-aided design;

Aerodynamics;

Mathematical modeling and computer programming;

Control systems and airborne computers and equipment;

Radio physics, communications and instrument-making;

Light alloys, high-alloy steel, hardening of metal, powder metallurgy and cemet;

Precision coordinate boring machines, machining centers and rotary-conveyor lines;

Welding, soldering and gluing;

Composite materials and polymers;

Accumulators.

Many suppliers of necessary technologies

Moscow has huge scientific potential ( world famous universities, industrial R&D institutes and academic laboratories). Defense R&D institutes are concentrated in Moscow and near Moscow. These institutes have developed world-class weapons: jets, rockets, complex air defense systems, control systems, tanks and armored troop-carriers, etc.

Ample proving ground facilities

There are railway and automobile proving grounds and wind tunnels in near-by Moscow suburbs. The Moscow R&D institutes have their own model shops and test laboratories.

Western manufacturers possible

Moscow will not be a competitor of western partners because it specializes in other activities for the historical reasons.

Transport company

All transportation utilities in Moscow, except for taxi and minibuses, belong to the Moscow Government. Transport is much cheaper and more convenient in Moscow than in Western cities. A PRT transport company in Moscow might be owned by the Moscow Government too. The transport company would buy the technology from the consortium that developed and tested it.

Most of the land is owned by the Moscow Government

The Moscow Government owns almost all the land in Moscow. Therefore there will be no problems with getting the land needed for the construction of PRT lines and maintenance and storage facilities..

However, the absence of a land market will not allow using increases in land prices and rents near PRT stations for assist the financing of PRT, except for areas of new buildings..

The Moscow Government would be a large buyer

The Moscow Government's large order would quickly make a profitable volume of production possible..

The Moscow Government (and its bonds) has a high international credit rating. It has never been insolvent. Actually it is more reliable, than the Government of Russia. The Mayor of Moscow has had the unanimous support of voters and municipality officials for more than ten years. The Moscow Government has available a large tax base from the presence of head offices of Russian companies and obtains a large amount of rent from the real estate it owns.

Large numbers of potential patrons for PRT and Dual Mode transport services

The population of Moscow, within its administrative borders is 10.5 million plus 3 million visitors. But actually the city extends far beyond these borders. The satellite cities, summer cottages of Muscovites and four large airports (and some small ones) are situated further.

Moscow living standards and life tempo are much higher than in other Russia. Moscow life style is similar to the largest European cities' one.

There is extremely high population density (40 thousand per square kilometer in bedroom communities) and the big share of working population with high mobility in Moscow. It will ensure using of PRT lines with full loading.

Moscow needs PRT and Dual Mode more, than any other city in the world. The majority of Muscovites spends from 2 to 3 hours per day in the vehicles. The vehicles are overcrowded. The average rush-hour traffic speed in city centre (Moscow has no CBD) is only 6 kph, and in other areas 15 kph because of traffic congestions. The number of cars in the city increases by some hundred thousand every year, but the road network length is much less, than in the European capitals. It is not enough garages. The air is polluted because of exhaust.
If the idea is implemented in Moscow and environs and proves the advantages, politicians and investors around the world will stand in line in order to participate in the PRT business.

Some problems with marketing PRT are as follows:
attraction of the attention and money of society to artificially organized military-political and economic conflicts and financial wars;

lack of strong threat to the car world (like global petroleum crisis, mass protests of the population or judicial claims etc.);

lack of powerful advertising, PR and propagation (I have not found PRT materials in any encyclopedia in book shops in Sydney!);

obvious defects of available PRT projects. Only PRT2000/Taxi2000/SkywebExpress and MicroRail are viable under conditions of addition of palletized Dual Mode; and also my project SkyTaxi is viable. Other projects do not take technical, climatic, social and economic realities into account and obviously hope for huge governmental subsidies;

economically illiterate car-centric interpretation of Dual Mode;

car-centric population culture;

car-centric economy and, accordingly, car-centric politics;

excessive commercialization and competition of projects and lack of the international co-operation;

the worst projects have received the greatest public support.
There are currently three known Russian PRT concepts:

One is my own project called SkyTaxi - http://skytaxi.narod.ru/e_index.html
("Ariadna"; the former name was "Transcar"; Russian language only website with no pictures; extremely complex suspended design is patented; an incorporated association is registered this year; several enthusiasts in Moscow; info@newtransport.ru ). See the website at: http://www.newtransport.ru/ (in Russian only). Shown below is an Ariadna illustration with a background of the usual Moscow apartment buildings.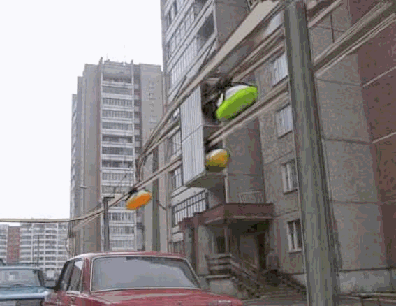 The third is called Unitran - http://www.unitran.ru/ It would be good for sparsely populated taiga and tundra; the project had some good support earlier.

I think there should be a cooperative PRT project involving several countries and cities, including Moscow. The cooperation approach would be cheaper, more qualitative, more reliable and more acceptable politically (because of the limited personal responsibility and risk of politicians as members of a large team) than a competition among weak and underfunded individual projects. Cooperation between main stakeholders and designers does not eliminate competition among contractors for supplying systems and/or components for market ready systems.
---

---
Last modified: October 07, 2003