USAPL Washington State 2000 Championships
Some things in life are a little easier the second time you try it -- downhill skiing, riding a bicycle, becoming a parent, and even powerlifting. At my first meet in 1997, I really was a novice. Besides what my training partner knew and what I read, I understood very little about powerlifting. As a result, I was a nervous wreck and almost blew the 1997 meet by getting red lights for my first two squat attempts.
Fast forward to January 2000. Having lost my old workout partner when he moved to Mississippi, I was floundering in the gym. I usually train in the student facility at the university, where no one squats deep or even understands what a deadlift is. Without someone to encourage me or critique my lifts, it was hard to motivate myself. But, thanks to the Internet, I had made some connections to the local powerlifting scene. I lifted a few times with Mike Trupiano at Gateway Athletic in downtown Seattle and helped him at several of the USAPL meets he promotes with his wife, Diana. Then, thanks to my Weighty Matters Web site, a novice lifter in Seattle, Shawn Clark, contacted me. We started lifting on Saturdays at Gateway, where we were able to hook into the great powerlifting network of Willie Austin, Bull Stewart, Yueh Chun Chang, and others. Mike's next meet was April 15th and both he and Shawn told me it was time to compete again. Without Shawn's encouragement and the gang at Gateway, I am sure I wouldn't have entered -- or succeeded.
So after two and a half years, I entered the Washington State 2000 Championships as 181-pound lifter in the masters 2 category (ages 45-49). To stop the floundering and concentrate on making progress, I kept a log of my training sessions. For bench and deadlift, I used programs I had saved from posts on the Net. For squats I just tried to stay deep and work on technique rather than trying to lift more weight. Every Saturday I'd meet Shawn at Gateway pretty early in the morning. We'd usually get in some good lifting -- although there were times when we talked so much with the other lifters that I hardly broke out in a sweat.
As we got closer to the meet, I was first concerned with making my weight class. Depending on the scale my weight was hovering above 181 three weeks out. I started cutting back on desserts and late night carb attacks (one of my weaknesses). It didn't take much effort before I was 180 on most scales. But I didn't want to find out at the weigh-in that these scales were off. So for the Friday night weigh-in, I stopped eating after breakfast. At the end of the work day I could hardly concentrate on my job or pass people on the street without lusting after their ice cream cones. Somehow I made it out to Bothell, a suburb northeast of the city, and got weighed in. The scale tagged me at 179 even.
This was a good sign, I thought. Once I got home and pigged out on a burger and fries, I started packing for the meet. Wraps, singlet, Team Strength On-Line T-shirt -- everything was well organized. I like to graze on comfort food at meets, so I packed a lot of bananas, peanut butter sandwiches, crackers, an apple, Powerbars and a yougurt. There were also two bottles of a carbo sports drink, NoDoz, Advil, band aids and lots of coffee.
Before my 1997 meet I had a terrible night where I could hardly sleep due to the excitement. This time I had a relatively good night and even slept later than I had planned. This was another good sign and put me in a pretty good mood. I wolfed down a bowl of cereal and a bagel and I was off.
With 81 lifters and two platforms, Mike and Diana Trupiano's April 15th meet was the most popular local competition in years -- and the organization was the smoothest ever. How many meets do you attend where the flights are already printed in the program? Where lifts are immediately entered into an Excel spreadsheet so that you know where you stand versus the other lifters -- and the audience doesn't have to wait hours for the trophy presentation? The meet was so successful that Mike actually closed off registrations at the deadline and wouldn't accept any new entries the week before -- or the day of the meet. Dean Reese, a lifter on the Strength On Line listserve, came up from Portland just to watch.
Since there was only two lifters in masters 2 category, I knew that if I at least finished the meet, I would take second place. I lift raw, so knew that I would never beat the other lifter, who though the same age as me was a much better powerlifter and used powerlifting squat suits and bench shirts. The main goal for me was not to bomb and make some respectable lifts. ["Bombing" is a term for failing to make all three attempts of one specific lift. You are out of the meet if you bomb. Another rule requires that you cannot lower your attempts after your opener. So if you open with too high of a weight, and fail on all three attempts at that level, you're out.]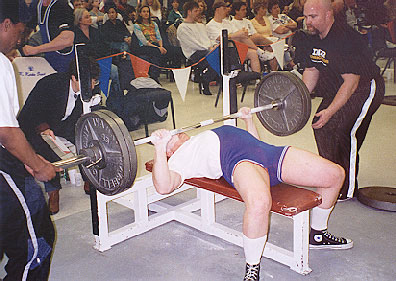 My attempt at a bench press of 240 pounds. Dean Reese is spotting me on the right.
The squat has always been the most difficult lift for me, due to poor technique and my mental attitude. So I kept lowering my opener from 275 to 270 to finally 265. At my 1997 meet, I almost bombed when I opened too high and got called on depth. So the lower opener was a great idea. Also, wearing a Team Strength On-Line T-Shirt with the motto "Friends don't let friends squat high" was a great motivator -- how could I bomb wearing a shirt like that?
So I wrapped my Z Wraps extra tight, like Bull Stewart had showed me at the gym, took a series of deep breaths, and walked out to the platform for my first lift. The bar seemed light enough, and I made a mental note to go down further than necessary. I got two whites, but the head judge gave me a red because she thought my feet moved (actually my toes went off the floor for a second but returned to the same place). My next attempt was 285, which I have done for three reps in the gym. This time I got three whites and it seemed easy enough. So I went for a PR of 315 on my third lift. Dean said the judges were kind -- I should have gone deeper -- but it felt great seeing three whites. The curse of the squat was finally broken.
I started eating my peanut butter sandwiches and waited. Because of the long day and the number of lifters, benching didn't start until 2 p.m. The rules for the bench competition had changed since I last entered a meet. The bar has to pause on the chest--but instead of the judge telling you when to lift it back up--it is up to the lifter to decide when it has paused long enough. When practicing, I tried to count off about two seconds on the pause. Now I had to face the real deal. Would I be able to pause long enough? I nailed the opener at 225 and then my second attempt at 240. My meet PR was 242 so I felt that I might make 250. I grabbed the bar and slowly lowered it and paused. Then I ran out of gas and stalled right off the chest. Almost all the other lifters wore an extremely tight polyester shirt designed just for bench presses. "Hmmm," I thought to myself. "Is it time for for me to give up raw lifting and buy a bench shirt?"
By the time deadlifts rolled around, I was getting very tired. I dreaded even using up any energy on warm-ups. Deadlifts had always been my strongest lift, but not that day. I got an easy 355 opener and a 375 second attempt, but stalled right off the floor at 395. Since I lifted 407 in my 1997 meet, this was a disappointment to me. I have been training "sumo" with my legs wide apart -- almost all of the best deadlifters at the meet were sumo lifters -- but I may go back to conventional for a while. My totals added up to 930, about 20 pounds shy of my 1997 total. That was somewhat disappointing, but I had a lot more fun this time and even got to take home a trophy for my second place finish.
Shawn, my Saturday training partner, did a fabulous job in the men's open 181 class after only six months of serious weight training. He went 7 for 9 and hit 465 in the squat, 320 in the bench and 460 in the deadlift. His last squat attempt was for 500 pounds. Shawn always squats REAL DEEP and this time his legs just didn't want to come out of the hole, even though he was yelling (something he never does in the gym). He told me later that he could taste blood in his mouth after that lift. Shawn got all three of his bench attempts, 270-305-320, even though he confessed to me that it wasn't his favorite lift. It was crazy with Dean and me trying to help him get his bench shirt on. When deadlifts rolled around, Shawn was tired too. He got his opener at 420 and then his second attempt at 460. But he also hurt his back on that second attempt and almost passed on his third lift. Instead he tried for 470 but couldn't make it.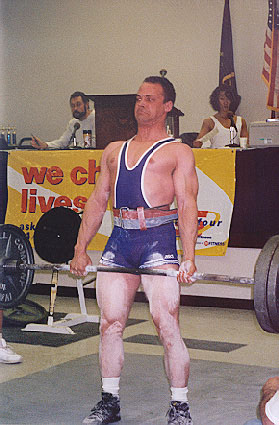 Shawn Clark deadlifts 460 pounds.
Unfortunately there were some wicked lifters in the 181 men's open, so Shawn took fourth in an extremely competitive class. It seemed ridiculous to me that a wimpy guy in his late 40s with a 930 total (me) could take home a second place trophy, but a great lifter in his early 30s who lifted 1245 in the same weight class would take home nothing but sore calluses and even more sore back.
At the meet there were some big lifts and some inspiring lifts. It was the first time I've seen an audience stick around till the end. In the 275 class, it was a big battle between Grant Higa and Kevin Stewart to see who would take the class. Grant won it by just 25 pounds, but at the end of the meet, Kevin won Best Men's Lifter thanks to his lower body weight -- and the Wilkes Formula. Priscilla Ribic won best Women's Lifter with a deadly deadlift of 420 pounds at a weight of only 165.
In the inspiration category, 73-pound blind lifter Candy Loukprasong went 9 to 9 for a total of 351. She was written up in the local newspaper. (See www.eastsidejournal.com) The top team in the meet was the Washington State School for the Blind, which had eight teen entries -- both men and women. It was especially touching to watch a blind lifter give the hand-off to a fellow blind lifter on the bench press.
It was great to finally meet Dean in person -- he spent a lot of time loading and spotting and giving words of encouragement to me and Shawn. In closing, I want to thank Dean, Mike, Diana and especially Shawn for the encouragement they gave to this "old guy" to stop hesitating and get back to the platform. And speaking of getting back to the platform, the big buzz at the meet was Mike and Diana's announcement of the 2000 Holiday Classic on Dec. 16th. This meet will feature the return of Bull Stewart to the lifting platform after his three-year (and I would add unfair) suspension from the USAPL. Make your plans now and I'll see you there.