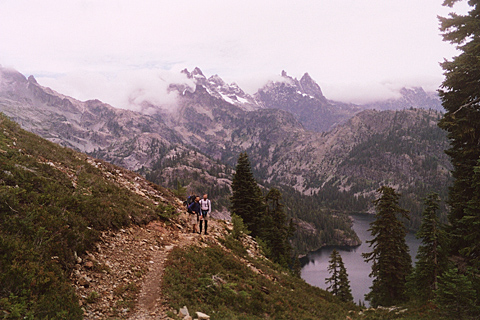 Distance: 8.9 miles
I've hiked in the Alpine Lakes Wilderness countless times in my 24 years of living in Seattle, but I never got this far into its backcountry. What I discovered was an eye-opener. I had always thought you had to travel to the North Cascades for chiseled granite peaks and waterfalls similar to the Alps. Now I found the same breathless scenery in my backyard, so to speak. On this day I saw "the best of the best" along the whole route.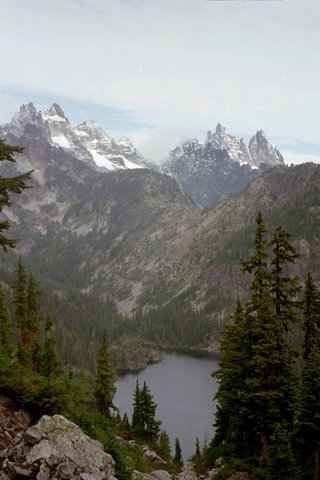 We started up, up, up from Lemah Creek at 3,200 feet to a 5,300-foot pass. But the weather was good and the views so beautiful that I hardly complained. Maybe the lightness of my pack and my physical condition after six days of hiking helped.

As we climbed we came to the cutoff to Spectacle Lake--a jewel of a lake with two points that almost pinch it in the middle. Then, as we went higher, Lemah Mountain came into view above the lake--then another jewel, Glacier Lake, appeared. We took lots of photos of what Keven called "the money shot," but none did it justice. "I have got to return to this place," I thought.

We soon turned the corner on the ridge and started for the Park Lakes basin, the last campsites for eight miles. The lake to the north of the trail looked too barren, so we headed down the Mineral Creek trail to one of the south lakes. It took a long time to get to the lake and I was worried that we were somehow off the right track, but eventually it came into view. We had this wild lake all to ourselves as we watched sunbreaks dance across the sky.
We heard a rumor that there was a young bear in the neighborhood of the Park Lakes basin, so we were very careful to hang all our food in a good location. (On some other days we hadn't hung it at all, sleeping with our food bags instead.) That night we didn't hear anything, but on the spur trail to the PCT the next morning, Chuck and I both saw prints that looked like they came from a bear.