'
PHOTO GALLERY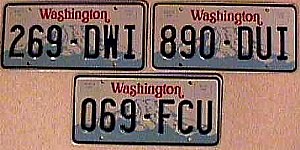 Three different plates that were never issued. At one time there was a plan to have the DWI plates issued to drivers who had been convicted of "Driving While Intoxicated" This didn't happen but the stigma stayed with the plates and therefore never issued. The last plate, no explanation necessary.
---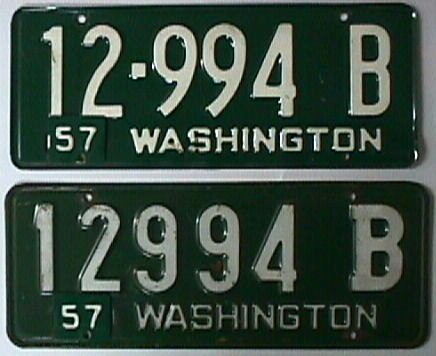 The Walla Walla prison where the license plates were made burned in September of 1953. 54 base plates with County codes B, C, P, and CO survived the fire but were single plates made of steel. Since it was decided that pairs would be issued a replacement plate made by the Irwin Hodgeson of Portland Ore and sent out to owners of the original steel plates. Note the different FONTS used and the dash is missing between the 2 and 9. The top plate is the regular issue steel 54 base plate made at Walla Walla prison with 57 metal tab and the bottom is the replacement aluminum plate made my Irwin Hodgeson. Walla Walla resumed making plates possibly in late 56 with the introduction of the new Federal Standard plate for 57.
---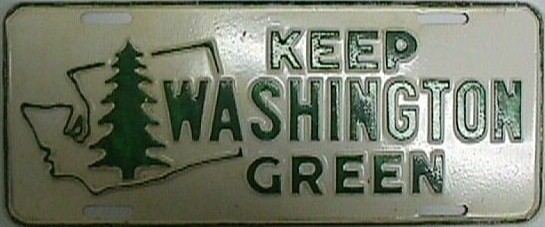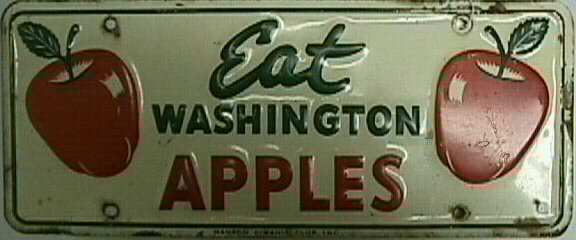 These are advertizing plates that were placed on the bumper along with the License plate. These plates have become a popular item for car hobbiests as an era accessory for their 50's cars. These were probably made prior to57 when the size of license plates changes to the Federal size of 6X 12

---

This is a manufacturers sample (prototype). The manufacturer is unknown. The embossed numbers and letters are shallow, the Washington is not embossed. There is a sample 57 sticker on the right and a 60 sticker on the left at the bottom. The era this plate represents is the time just after the Federal size plates were adopted. Most likely this plate was an example of the 58 base plate. This style plate was never issued. The plate that was issued was similar in style with an embossed Washington across the bottom and the year sticker was placed to the bottom right.