PHOTO GALLERY
---
MOTORCYCLE PLATES

The 1920 plate is porcelain. 1920 was the only year that these type plates were issued. The 1938 plate is a restored metal plate that was found at a local auto swap meet. It was missing the entire upper right corner. MC plates were issued in pairs through 1938.
---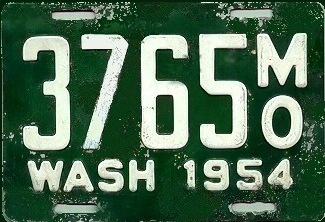 1954 plates were made by Irwin-Hobson and the same style as Oregon State. The MO was placed vertically to the right (suffix) These plates were larger in size than the later issues. This example is owned by Craig and Carolann O'Brien.
---

The 1955, 1956, and 1957 plates were also made by Irwin-Hobson and the MO became a prefix placed vertically. MC plates remained with an embossed year of expiration until 1965 when a sticker was issued to validate the plates. MC plates from 1958 through 1964 were Washington made, slightly smaller and had a white border.
---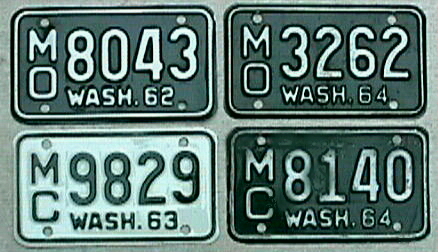 Note the 1964 plates on the right. The top right has "MO" vertically and the bottom right has "MC" vertically. The popularity of this type transportation increased the demand and starting in 1963 the MO was replaced with MC and through the alphabet as more and more plates were issued.
---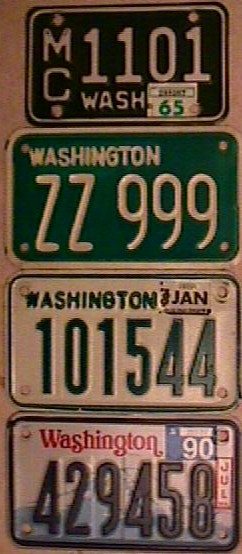 In 1965 the first stickers were issued to MC plates for validation. The top exmple is NOT correct. Someone flattened the 64 embossed date and placed a 65 passenger sticker on it. The next plate "ZZ 999" is a debossed sample plate. This was the beginning of the standard size MC plate and the Washington was no longer abbreviated. Washington was placed to the left to provide space for the validation sticker. These were used from 1968 to 1976 and used a 2 letter prefix. In 1977 a new style appeared. The plate was now green on white and 6 digit numbering plan. This was the beginning of staggered expirations and the stickers now had a month and year on them. The 1990 plate is the type currently in use today and the month of expiration is now a separate sticker from the year.
---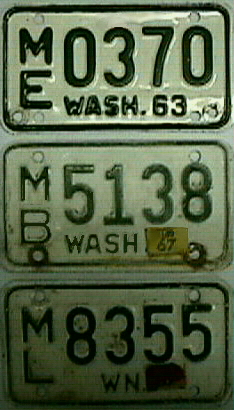 The top plate is an exempt plate. The "E" was reserved for use on exempt vehicles. The middle plate is a 1965 base plate with the validation sticker placed to the right of WASH. The bottom base plate was issued between 1966and1967 and now has WN in place of WASH.

---
I wish to acknowledge Pete Madsen long time ALPCA member for providing many of the facts on Washington MC plates. Without his assistance this page would not exist. Thank you Pete.
---