PHOTO GALLERY

---

This is a 1910 leather plate. Registration numbers were first issued in 1906. Plates could be "homemade" of most any material. Few rules existed but the state required WN on the plate. Most leather plates appear to have been commercially made but not issued by the state.

---

This is a 1912 leather missing the WN. The leather was sewn over a metal frame. This frame can be seen on the left side where the leather has shrunk from moisture and age.

---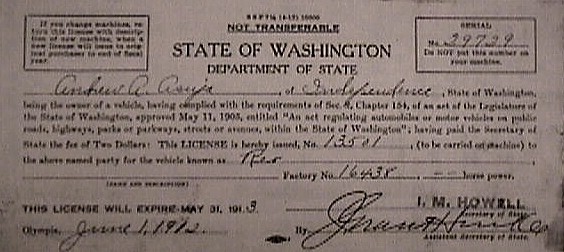 This is the registration for the 1912 plate. It was issued to Andrew A. Asuja for a REO brand automobile and expired May 31, 1913. The fee was $2.00

---

This nice example of a 1913 pre-state belongs to my friends Ron and Barbara Bader. In the previous examples the verticle WN was placed to the left. In this example the WN is now placed vertically on the right.

---
PRE-STATE REGISTRANTS
YEAR TOTAL RANGE of NUMBERS NEW REGISTRANTS
1906 763 0 - 763 763
1907 1253 764 - 1253 490
1908 1955 1254 - 1955 701
1909 4547 1956 - 4547 2592
1910 9311 4548 - 9311 4763
1911 11897 9312 - 11897 2586
1912 16946 11898 - 16946 5049
1913 22706 16947 - 22706 5760
1914 27756 22707 - 27756 5050
1915 46000 27757 - 46000 18244