PHOTO GALLERY
---

This is a 1919 plate with a porcelain 1920 date tab to revalidate the vehicle for 1920. Note the tab number matches the plate. It is believed that this combination was issued until stock was depleted before the all porcelain plates were issued.
---

This is a porcelain plate. These were issued to new registrants for 1920. When the supply of porcelain plates was exhausted the state issued a painted metal 1920 plate. These were issued toward the end of the year and therefore are a rarer plate than the porcelain plates. Slots are visable on this 1920 plate even though a tab was only used on the 1919. Washington State issued a 1921 metal dated plate therefore these tab slots went unused.
---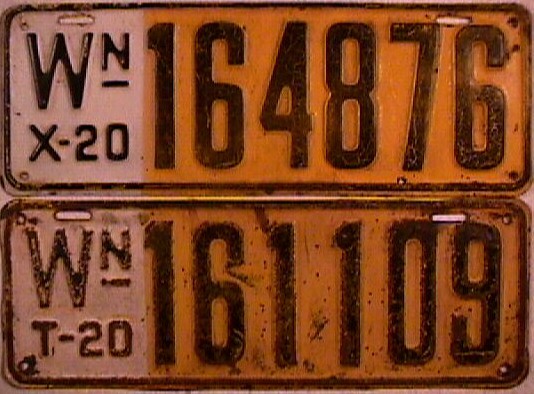 These are painted metal plates. The top plate has the "X" for a passenger plate. The "T" was used for truck. There were other letter designations for different uses. An "A" was FOR HIRE, and an "E" was an exempt plate.
---